Improve Your OpenSea Experience with Our Lucky Trader Extension
Logan Hitchcock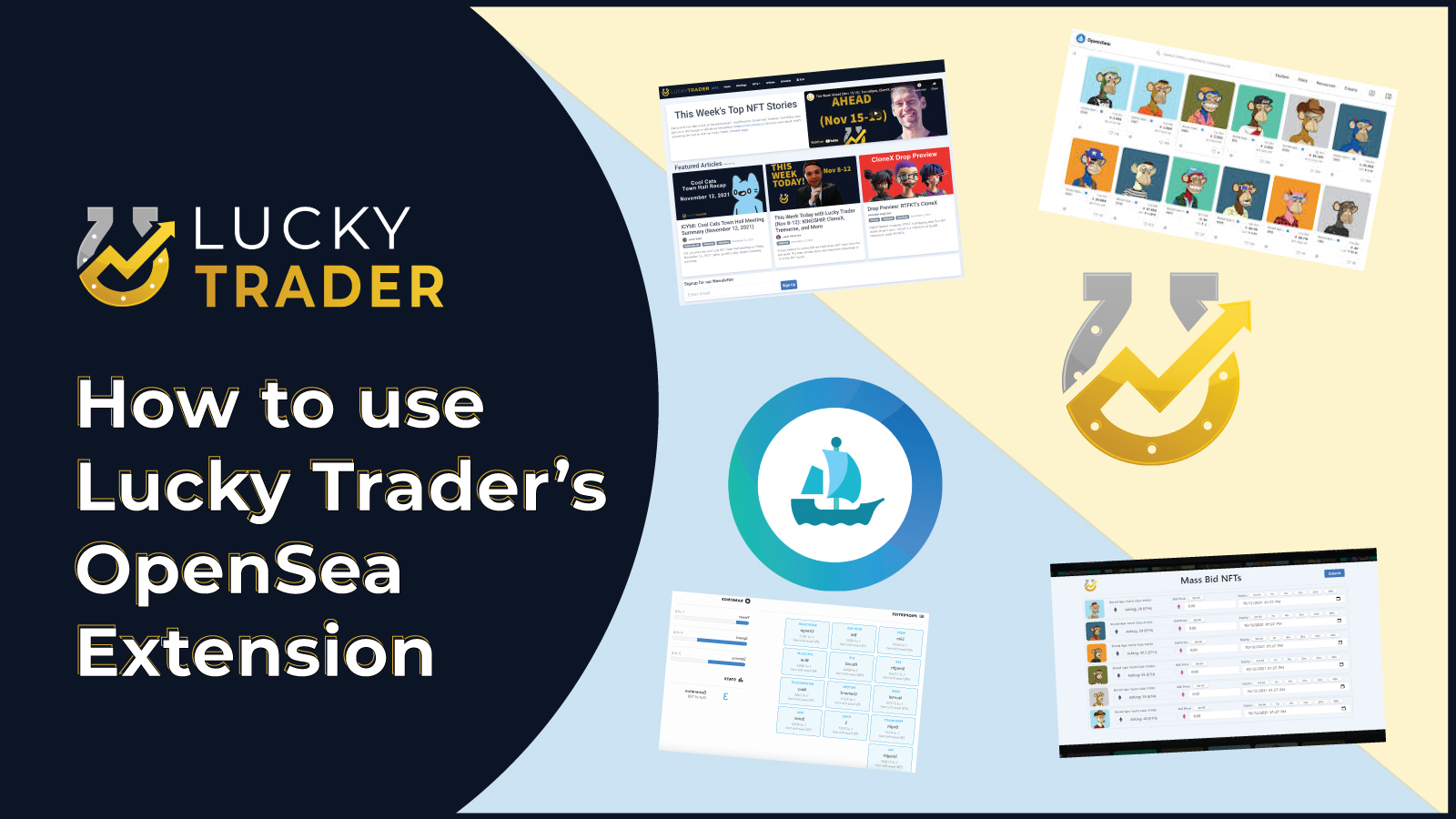 Finding valuable NFTs on OpenSea is challenging.
There are lots of potential assets to choose from and understanding which ones are rare or mispriced relative to others is inefficient when having to toggle between multiple pages.
Plus, if you want to bid on, or list multiple NFTs, you have to do it one at a time.
Well...not anymore.
To solve this problem, we've created the Lucky Trader Chrome Extension for use on OpenSea.
With the LuckyTrader extension, we've made it easier than ever to find and buy rare NFTs, bid across multiple NFTs simultaneously, and list multiple NFTs from your collection in a few clicks.
How to Download the Lucky Trader Extension
The LuckyTrader Extension is currently only accessible via the Google Chrome Web Store.
To download the extension, head to the Chrome Web Store and search for "Lucky Trader" or click here.
You can add this to your browser like any other extension.
After officially adding the extension to your browser, navigate to OpenSea.io to put it in action.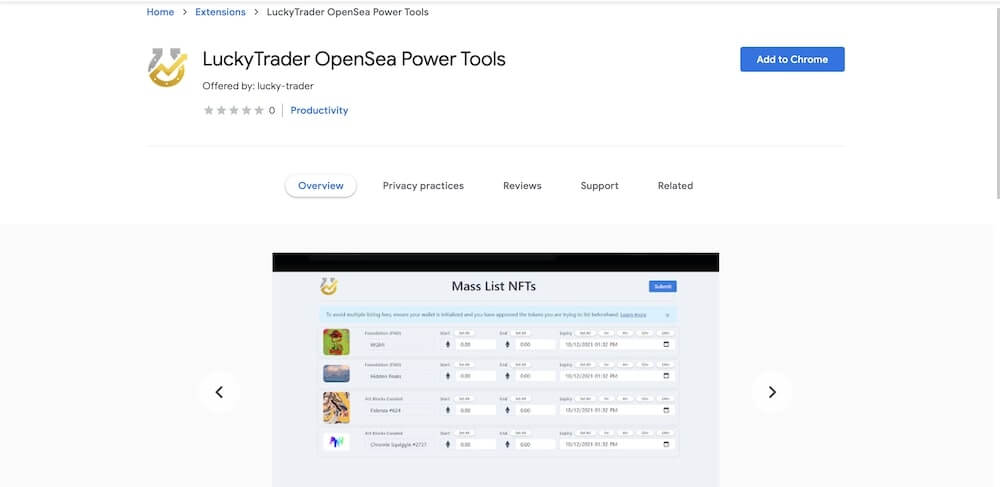 Viewing Rarities with the Lucky Trader Extension
With the Lucky Trader extension, you'll now be able to view individual asset rarities directly on page using our proprietary rarity rankings from LuckyTrader.com.
When navigating through collections on OpenSea, if the collection has a Lucky Trader rarity ranking, it will automatically populate the individual asset's rarity ranking in the bottom left corner of the asset card. This feature is only available when viewing assets through the collection view on OpenSea, and will not populate once within an individual asset page.

Pro Tip: We recommend using this feature to find items with rarities that differ from the bulk of assets that surround it. For example, if most of the items listed for sale near the floor price hold rarity rankings in the 9,000s, a similarly priced item with a rarity ranking of 5,000 may be underpriced relatively speaking.
Bid on Multiple NFTs at One Time with the Lucky Trader Extension
The Lucky Trader extension also allows for bidding on multiple NFTs from the same collection at one time.
Only assets that have a listed "buy now" price are available for bid. Assets that are not listed with "buy now" prices will have a "Not Bid-able" reading at the bottom of their asset card.
To select an asset for bid, click the pill toggle at the bottom of the asset card. If you've done so successfully, the pill will turn blue, and the toggle will move to the right side of the pill button.

As you add items to your bid list, you'll notice that an icon will appear in the bottom right corner of your screen, indicating the amount of NFTs you've selected.
Once you are ready to make the bids, you can select "mass bid NFTs," or "clear" should you wish to stop the process and start over.
After you've selected "mass bid," a popup will appear with all the NFTs you've selected to bid on.
To enter bids on OpenSea, you must have Wrapped Ethereum (wETH) in your wallet. You can learn more about Wrapped Ethereum here. If you do not have wETH and you'd like to make use of this feature, you can swap ETH directly in your MetaMask wallet, or you can utilize a decentralized exchange like Uniswap or SushiSwap.
Attempting to bid more than your current balance of wETH will prompt an error message.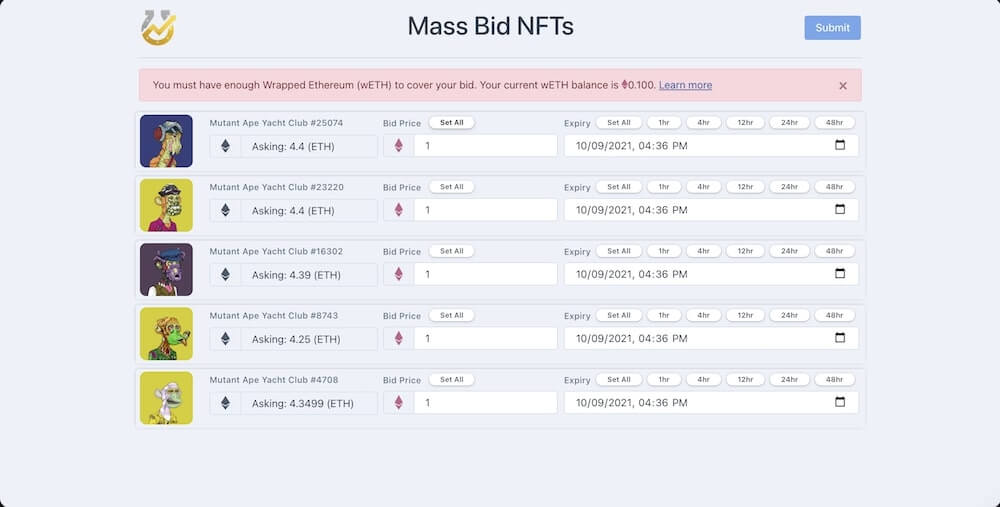 If you have enough wETH to cover your bids, you'll be able to enter all the relevant bid details for each respective asset you've selected in the popup above.
Additionally you must select a date of expiration for your bid. By default, the bid expiration time is set to 15 minutes. If the bid is not accepted within the time duration you've selected, it will automatically expire. You can change this utilizing the date picker option or by selecting one of the preset times we've listed.
If you're bidding on multiple items and you'd like to use the same price and expiration date, you can hit "select all" to have both the time and price automatically reflected across the NFTs you've selected.
Once you are comfortable with all your bid details, click "submit" to begin the process of creating bids.
After hitting submit, your MetaMask or wallet provider will populate with a signature request for each NFT you're placing a bid on. For example, if you're trying to place a bid on four different Bored Apes, you will need to sign four signature requests in your wallet.
If you've completed the signature request and your bid is successful, you'll get a green success notification within your popup. For those signature requests that you have declined or if there has been an error, a failure notification will be indicated within the popup.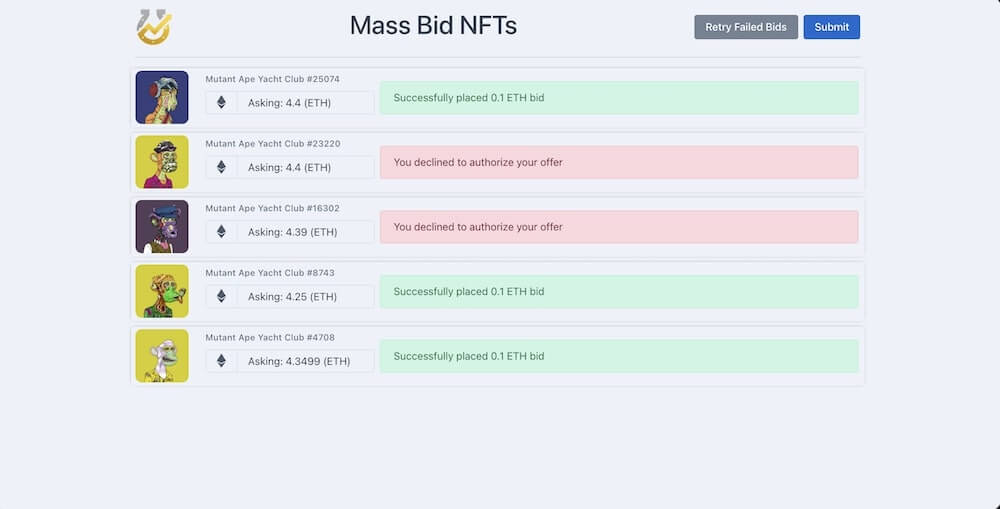 You can also check that your bids were placed successfully on the asset page of the item you bid on and within your OpenSea profile under "offers made."
List Multiple NFTs at One Time with the Lucky Trader Extension
Tired of listing one NFT at a time for sale on OpenSea?
With the Lucky Trader Extension you can now list multiple NFTs for sale at the same time from within your profile.
Just like with the mass bid feature, simply toggle the pill button on the bottom of each asset you'd like to list. Notice that if you already have an item listed for sale that item will display an "Already Listed" note at the bottom of its asset card.

After you've selected a set of assets you wish to list for sale, select "mass list NFTs" to generate the listing details popup.
Important note: All fields are required fields. You must select a price and a date of expiration.
There are three ways to list your NFT on OpenSea. Within the popup, first select the way in which you'd like to list your NFT before proceeding. You can choose to list your NFT at a fixed-price, or via English or Dutch auction.
If listing for a fixed price, your NFT will be listed at the price you choose until it is purchased or the sale reaches the date of expiration.
Listing as an English auction requires a starting price, whereby bids can increase in price, resulting in the NFT being transferred to the user with the highest bid at the time of expiration. Lastly, a user can list in a Dutch auction format. Dutch auctions use a starting price and then decrease over the duration of the auction. For example, if you select 5 ETH as a starting price and 3 ETH as an ending price, your asset will slowly decline across the duration of time you've selected, in Dutch auction format. Without cancelling, your auction will then run until the asset is bought, reaches 3 ETH, or expires.
After you've selected how you wish to sell your NFT, you'll have the option to select a start price, end price (if applicable), and a date of expiration.
Note: In version 1.0.0.4 of the Lucky Trader OpenSea Extension, we implemented a change that does not allow users to set a sale price of "0 ETH" as a protection for user error when listing NFTs.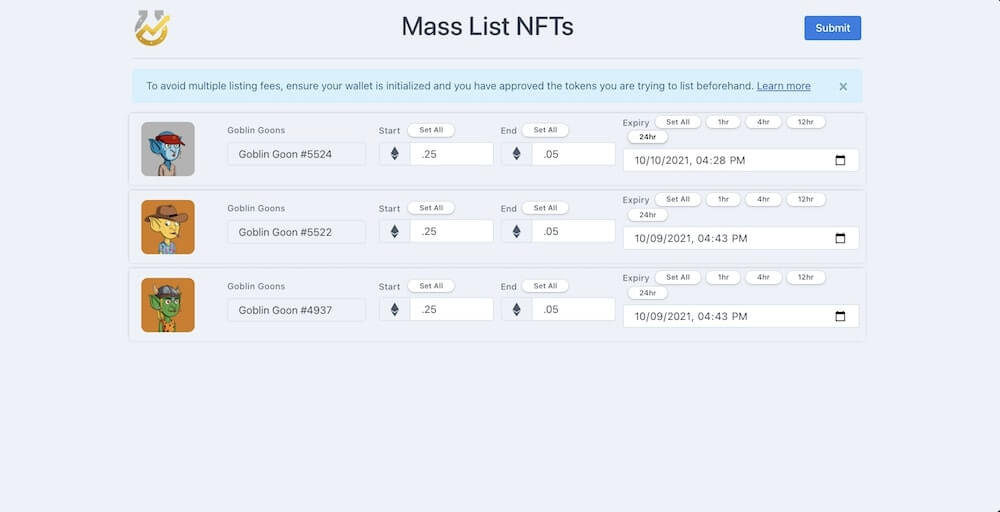 Once you've filled in all the relevant sale details, you can select "submit" to create your listings.
If you wish to avoid the potential for multiple listing fees, it is important that your wallet has already been initialized on OpenSea, and that you've already unlocked the specific tokens for trading. Both of these are requirements for trading on OpenSea. You can learn more about them in our Beginner's Guide to OpenSea.
If your wallet is already initialized and you've previously unlocked the token for the collection you're attempting to list, your wallet will populate signature requests for all of the NFTs you're attempting to list. After signing each signature request, your NFT will be listed on OpenSea and you'll receive a successfully listing notification.
Much like with bids made, you can verify the listing via your OpenSea activity page, or heading to the individual asset page for the NFT you've listed.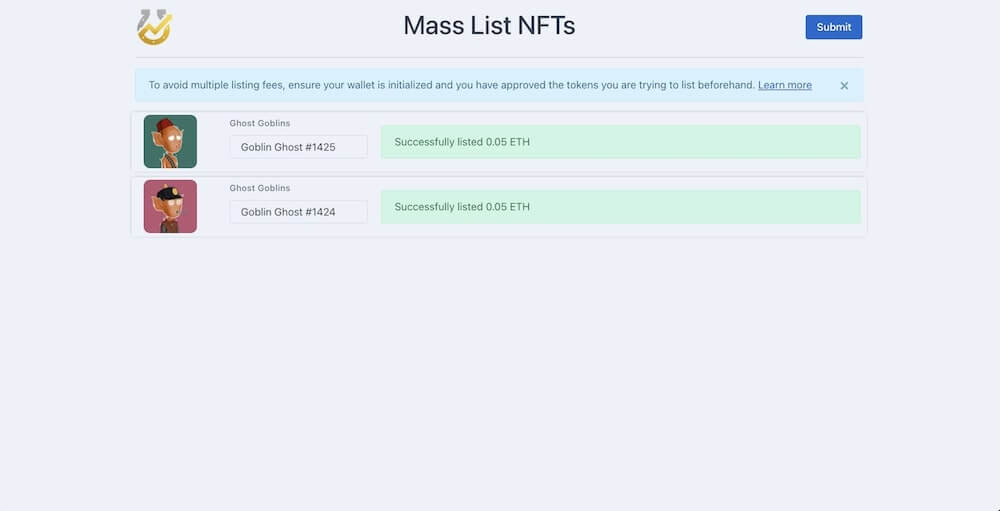 How to List ERC-1155s with the Lucky Trader Extension
Version 1.0.0.4 of the Lucky Trader Extension also offers support for listing multiple ERC-1155 NFTs. To list ERC-1155s, you must travel to the individual asset page.
From the NFT asset page, click the emphasized "You Own" button to activate the sale popup just like when listing ERC-721 NFTs.
After, you'll be able to select the quantity of the ERC-1155 that you'd like to sell, and list your item just like before.

---
You can download the extension in the Google Chrome Web Store here.
New to OpenSea? You can reference our Beginner's Guide to get started.
Related articles