ICYMI: Cool Cats Town Hall Meeting Summary

Jason Bales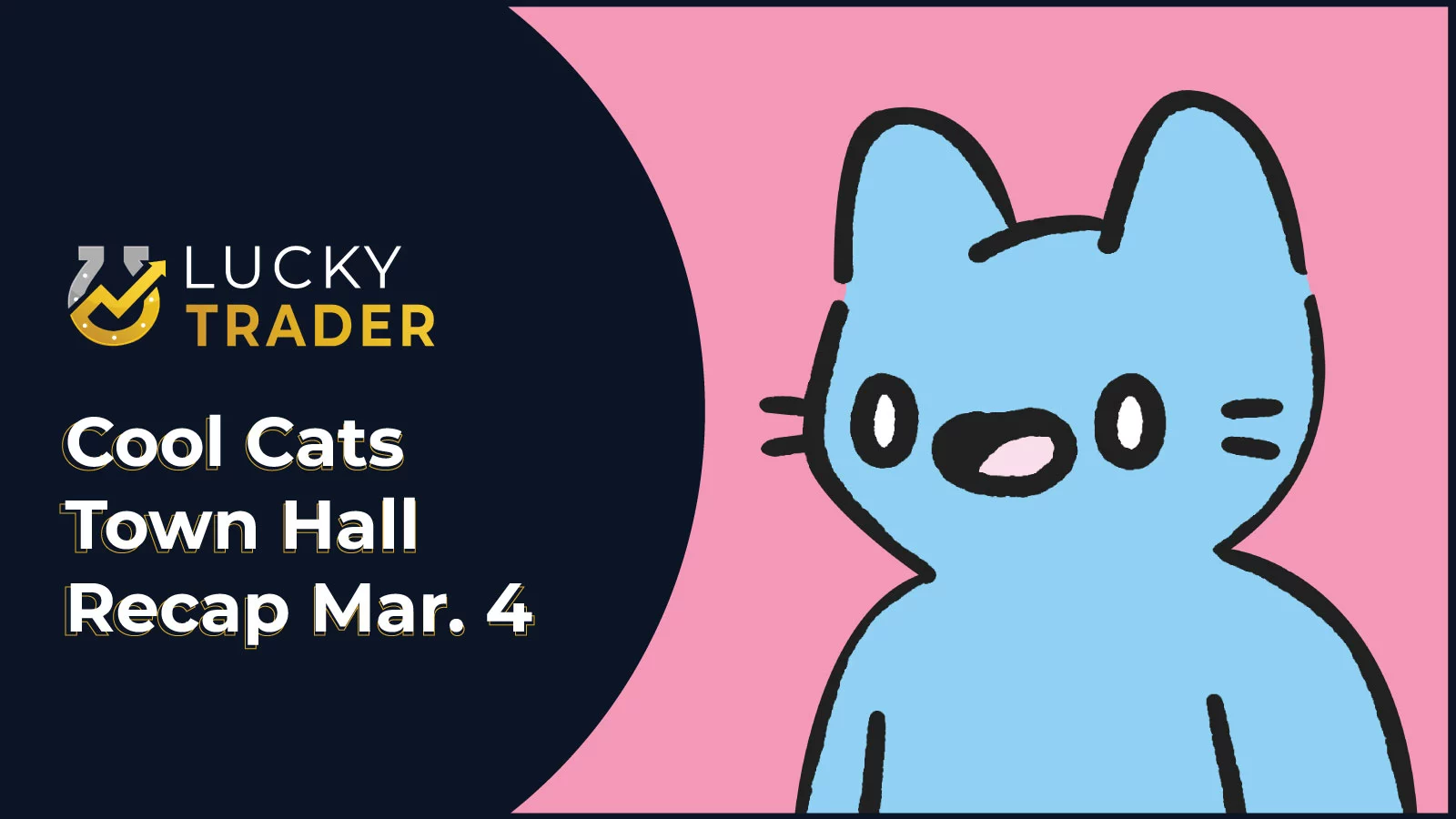 Communication With the Community
The team is acknowledging that they have made mistakes over the last two months.
Communication fell apart, but the team is curating key questions each week to answer during Town Halls or in Medium articles.
Weekly Town Halls are back moving forward with all four founders (ELU, Lynqoid, xtremetom, and clon).
$MILK Accumulation
Cool Cats NFT holders will continue to accrue $MILK and will be able to claim that $MILK when the game goes live.
Cool Cats holders will obviously get to egg hatching and final form before Cool Pets holders.

There is no in-game benefit to reach the final form before anyone else.

$MILK is a utility token designed to be used within the system, and the tokens must be spent to get to final form.
The absorption of $MILK within the system should be nearly the same as if the game launched on time.
There are a maximum number of pet interactions that can take place per day, so there will still be a delay between egg hatching and final form.
$MILK accumulation will always continue even if the game comes down again at any point in time.
Polygon Issues
Polygon forked and created a number of issues with providers like Alchemy.
There has been a lot of consistent forking and de-syncing of information.
This is impacting the team, and the game will not launch until Polygon and Alchemy say it is okay to release it.
The team is not currently looking to move to another network.

They do not want to run the risk of coming into contact with volume-related issues on chains like Harmony.

They do have the ability to move to another L2 rather easily, if necessary.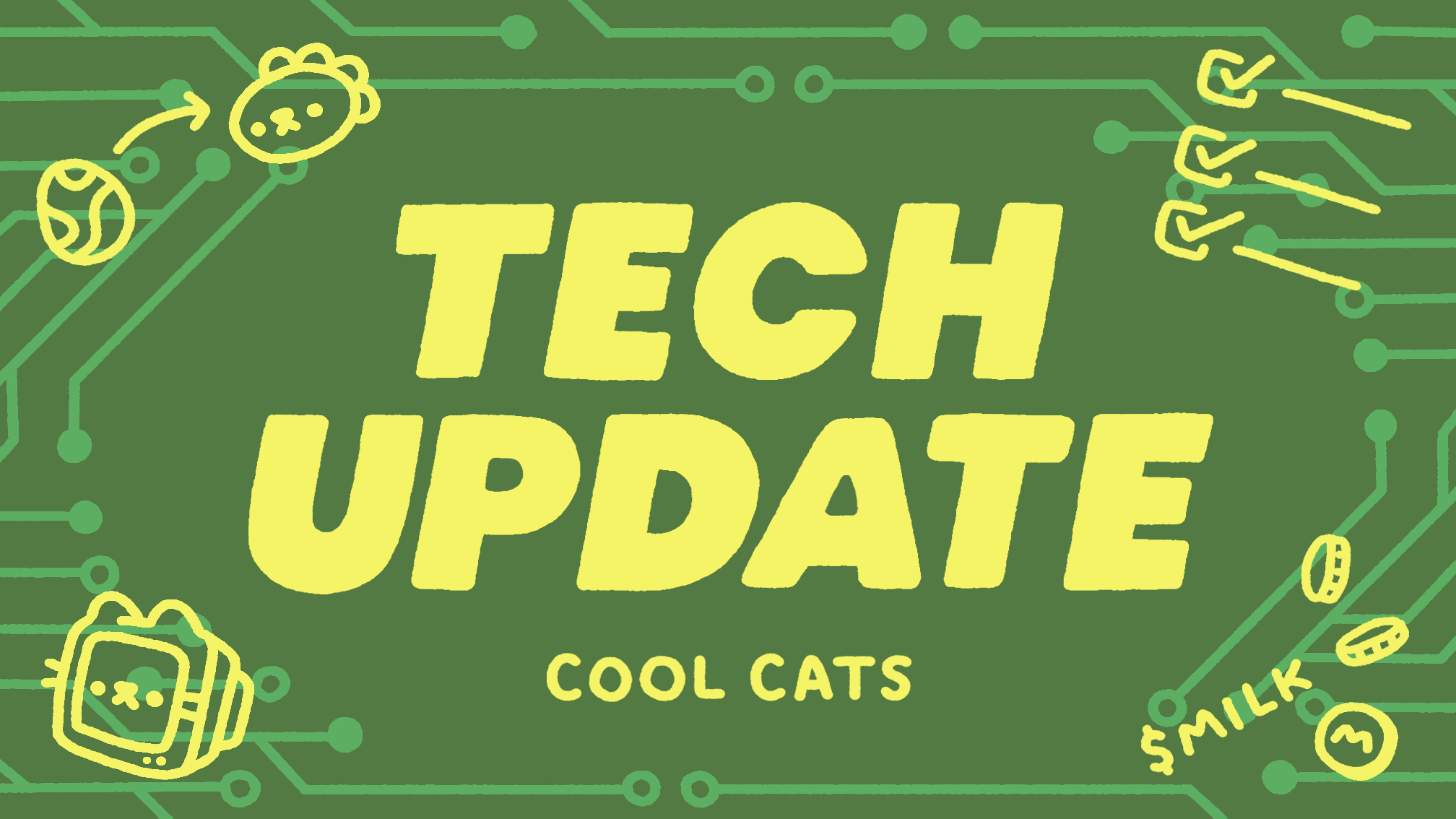 Status of the Game
Both front-end and back-end developers made the infrastructure much more smooth.
The team will continue to optimize and battle test the gaming experience.
New features are coming soon but at the mercy of Polygon currently.
What's Next?
The team is gearing up for a sizable live beta test.

They're looking to get hundreds of people testing the game at the same time.

The team wants to see how the system handles a huge volume of transactions.
The end result will be that the entire community can make sure the experience will be the best it can be.
South by Southwest (SXSW)
The team is taking over a pizza shop.
There will be a Cool Cats and Cool Pets meetup.
This will be open to everyone, but Cool Cats and Cool Pets holders will be able to claim merchandise and other prizes.
The team is working on the logistics of streaming some of the events.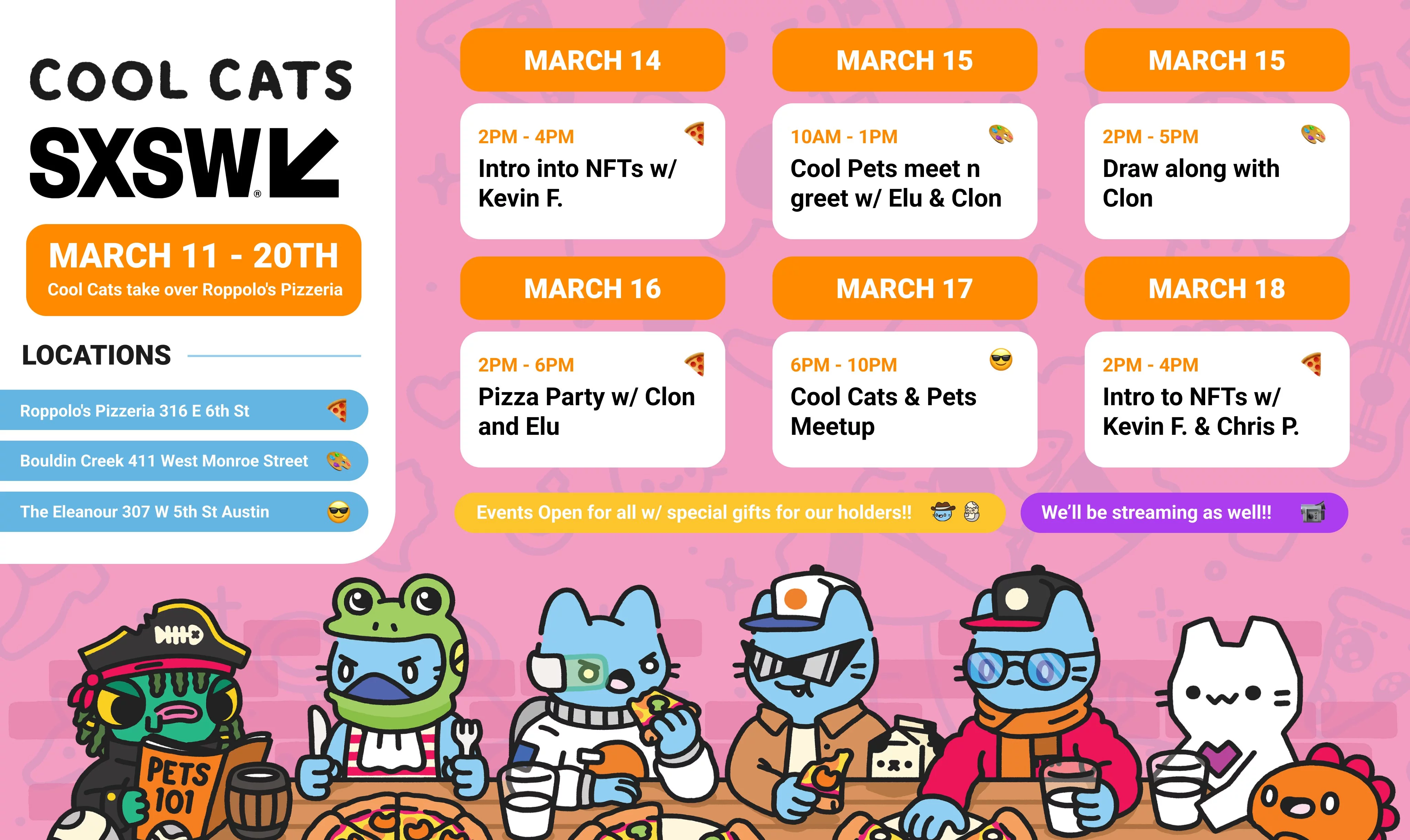 Q&A Session
In this section, Q indicates a question and A indicates an answer (speaker in parenthesis).
This is a summary, not verbatim.
Q: Can you shed some light on the 1/1s in terms of Cool Pets? (nickgada)

A: Who knows if they even exist? We will find out. (xtremetom)

Q: Can you talk about Chris's new role as CEO? (LedroitTiger)

A: Chris is mostly dealing with executive decisions, business partnerships, and Cool Cat expansion. We can relay the desire for the community to hear from him, and moving forward, we have to get him more involved in discussions. (xtremetom)

Q: Was the Puma partnership planned, or was it a surprise to all of you too? Is this the big partnership? (The Good Knight)

A: The only answer we can give you regarding partnerships right now is that announcements will follow. (xtremetom)

Q: Are you aware of the SEC concerns with NFT tokens? (Nadz)

A: We are fully compliant with regulations. (xtremetom)

Q: Do you have anything to share about the rarity of Cool Cats? Is there any benefit to owning more than one Cool Pet? (imdave)

A: We've said from the start that we will be giving benefits to the tiers, but we're never going to weight it too heavily for one specific thing like $MILK earning. One feature we want to build is a particular type of questing that you can only do if you have a Cool Cat, and each tier gives you more access to that passive questing. That's just one simple example. We're going to add them across the whole game. In housing, you might end up with an area in your house that is a gold mine. You can stake your cat on that gold mine, and during the staking period, you'll earn more $MILK on the gold mine if you have a higher tier cat. With regards to Cool Pets, there may be stuff further down the line where you need multiple Cool Pets to do a quest. (xtremetom)

Q: When are we getting more thick, juicy lore? (frogcat)

A: Let's just say it is dripping ready to be released. (Lynqoid)

Q: Is the team going to do anything to help out the Cool Pets holders because of the $MILK earning? (Psychdre)

A: There are a few options open to us, but we haven't come to a final decision. We could help people get to final form faster. But anything that reduces the number of interactions, for example, means the amount of $MILK that can get sunk per day actually goes down and we end up in a hyper inflation situation faster. (xtremetom)
A: We could also reward community engagement. We could buy items and transfer them to Cool Pet holders in the interim. That's just another thing we could do. (Lynqoid)

Q: How will the element types assimilate into the effectiveness of each quest? (Kawpuccino)

A: We already have in the stage 1 questing system bounties for element types. We will definitely be taking that forward and using that somehow in the future. We definitely want to do more in the future with element types. (Lynqoid)
Related articles