ICYMI: Cool Cats Town Hall Meeting Summary

Jason Bales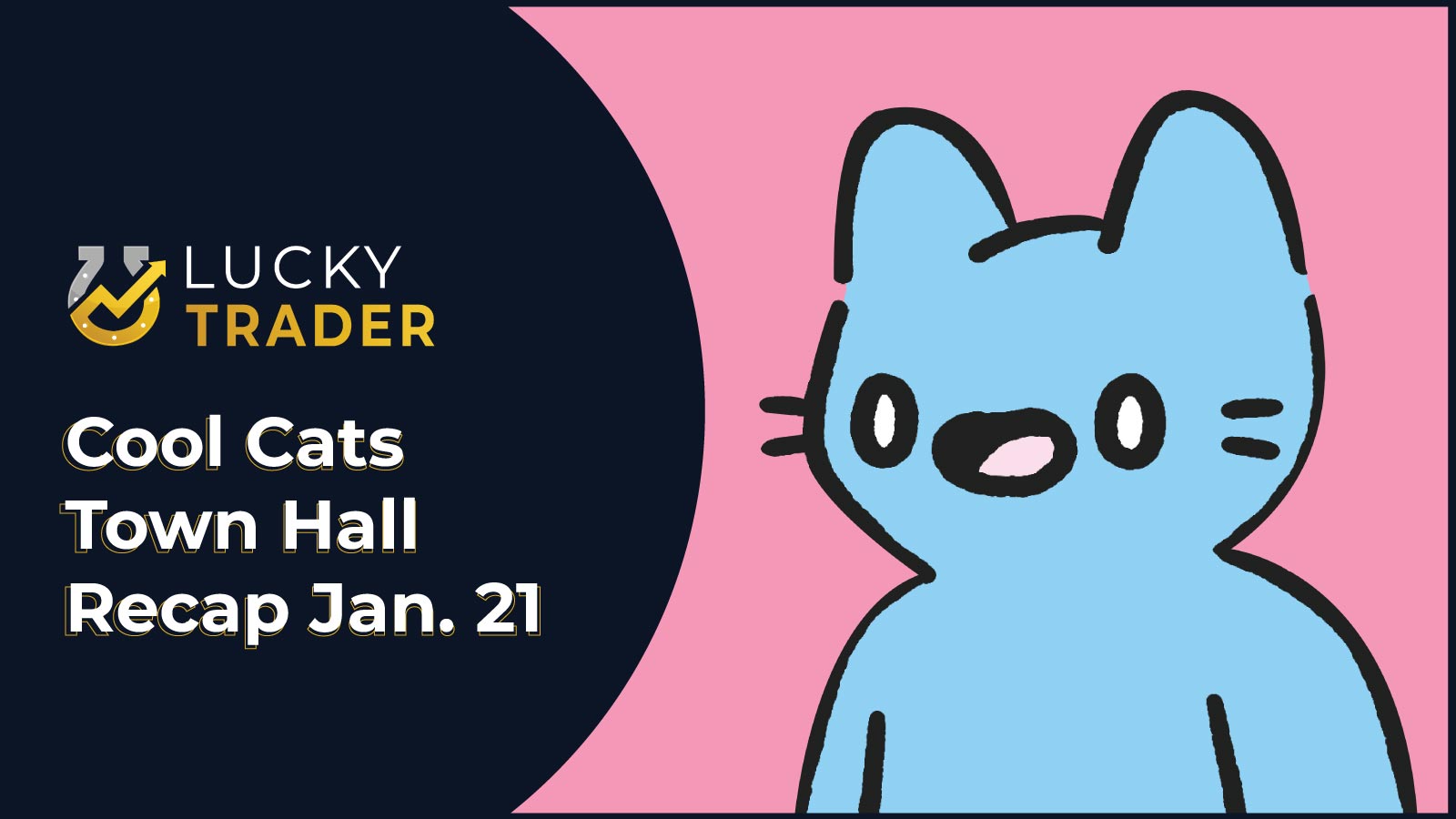 The Cool Cats NFT hosts an informative Town Hall meeting every Friday at 5 p.m. EST. Below is a summary of the event that took place on January 21, 2022.
Key Takeaways: Cool Pets giveaways, allowlist information, MoonPay purchase, giveaway is completed, business developments, new team members
For last week's Cool Cats Town Hall summary, click here.
During the Week
Before we dive into this week's Cool Cats Town Hall meeting, let's talk briefly about what happened during the week.
More sneak peaks at Cool Pets were released on Twitter.
Tom (xtremetom) went on the NFT Catcher Podcast with Jennifer Sutto and Michael Keen.
🌱🌱🌱 7 DAYS 🌱🌱🌱 pic.twitter.com/EnflHyswGr

— Cool Cats 🆒🐱 (@coolcatsnft) January 21, 2022
Cool Pets Allowlists
There are roughly 1,500 Cool Pets available for public mint, plus overflow if allowlist does not take full advantage of the early access mint.
There are two reasons for a public mint:

The community asked for it.
Making the entire drop allowlist only feels too exclusive.

Cool Cat NFT holders can mint one Cool Pet for free.
Cool Cat NFT holders can mint on both the allowlist (if they have access) and the public mint.
There is a possibility for three total Cool Pets per user.
Hello! I have been given the lovely honour of giving out 25 Cool Pets Allowlist spots!

I would love you to give me a little sample quest for your Cool Pet to embark on! (Quest title and short description📖)
Reply below with your entry and with your ETH address (no ENS pls!) pic.twitter.com/WKS1Jd4tBb

— pMauz (@pMauz_crypto) January 21, 2022
MoonPay Collaboration
MoonPay bought a Cool Cats NFT.
The team does not know who it was purchased for, but MoonPay typically buys NFTs for celebrities.
You know the drill by now, right? 😏

Who do we think Cool Cat #9536 resembles?

Oh, and #WLTC 😉 pic.twitter.com/M1dWM7pBsA

— MoonPay (@moonpay) January 19, 2022
Cool Cats Giveaway
The winners have finally been determined for the Cool Cats NFT giveaway.
Stay tuned in the next couple of days for an announcement regarding the giveaway.
Cool Cats Social Media
Clon said the next big milestone is 500,000 followers.
The team has "big plans for this year and expanding."
100k of the coolest followers out there! thank you all for being a part of the family. 🐱💙 pic.twitter.com/9qIIj6T6s0

— Cool Cats 🆒🐱 (@coolcatsnft) January 19, 2022
Cool Cats Business Announcements
The team is introducing Chris Hassett as CEO of the company.

His background is in technology and building businesses.
Back in the early 2000s, he started a company called Uproar, Inc.

The goal was to become one of the best gaming companies.
It eventually went public on NASDAQ.

That company was eventually bought by Flipside Inc., which is associated with Blizzard Entertainment and Universal Interactive Studios.
Cool Pets is only the beginning of the company's plans to expand its gamified world.

The team is also introducing Mylan as Head of Game Development of the company.

He has been working with Microsoft on metaverse and VR products.
Q&A Session
In this section, Q indicates a question and A indicates an answer (speaker in parenthesis).
This is a summary, not verbatim.
Q: Chris, are you completely disassociated with your role at CryptoSports? And have you learned anything at CryptoSports that you see helping with Cool Cats? (Michael Rippe)

A: Tom worked on CryptoSports with me back in the day. This was my first project and started when CryptoKitties first emerged. I was intrigued by that. We used NFTs to represent sports teams and created a trading platform. OpenSea was pretty small back then. That was more of a side project to me at the time. I was doing some investing and working at another company at that point in time. Cool Cats is the only thing I do. I don't have another job. I'm 100 percent dedicated to this. From a professional perspective, Cool Cats is it. The community is awesome, and I'm all in. As far as the responsibility, I make sure that I listen to people and try to solve problems with them. Helping others achieve their goals makes the company great. There are a lot of people outside of Cool Cats that I have access too. I take this responsibility more seriously than you can imagine, and we are going to do wonderful things at Cool Cats. (Chris Hassett)

Q: Could you provide some clarity around funding? Are you going to pursue outside funding? Perhaps VC firms? Will there be transparency on that front? (Ben Jones)

A: Any company that is adding employees and growing the team needs capital to do that. One of the things I see happening in the traditional venture capital community is that NFTs are disrupting this space. NFTs are providing alternative sources of capital for companies to operate with that does not involve diluting the cap table. Relative to Cool Cats, I have a cap strategy that at this point in time won't involve us going out to raise funds in the traditional sense. However, opportunities to partner with great sources of VC money may emerge. From a stability point of view, our capital structure and plan is solid and in place. To your final point about transparency, that is something we are looking at. We're still trying to figure that out. This is web3, not web2. I'm a firm believer in transparency. I don't have a firm answer for you, but it has come up a lot in meetings and we're trying to figure that one out. (Chris Hassett)

Q: Wen tokenomics? (Horndog)

A: I'm staring at the gitbook of tokenomics. We're tweaking little numbers. It will be out soon. (xtremetom)

Q: How long does the allowlist have to mint? (Muffinz)

A: We haven't locked that in exactly yet. (Lynqoid)

Q: How does ETH dropping in value impact your raise from Cool Pets? (SammySeaLegs)

A: Regarding the ETH price, yes we did price at 0.5 ETH ahead of the recent dip, but from a capital perspective, we plan for the long term. We're obviously not going to change the mint price. We know that ETH is volatile. I lived through the last crypto and NFT winter. There are effects in the marketplace that are beyond our control. I always plan for contingencies that address these unknowns. We have the capital to execute our plan. (Chris Hassett)

Q: What are some of the first things you want to accomplish after the launch of Cool Pets? (octapad)

A: We have a product roadmap. We want to further advance the gamified worlds that Cool Cats and Cool Pets can engage in, and further develop tokenomics that make sense for the community. We want to focus on building that gamified world out as aggressively as we can. We are growing our tech team and constantly hiring on that side of things. The other thing is we have more happening than we can release right now, but because of our community, there are a lot of expanding brand opportunities outside the NFT space. There are a series of partners we are looking at working with to help us do that. I can't give anything more specific than that. The last thing I would say, and this is a real priority of mine, one of the things I really enjoy doing is to continually try to bring great, super-talented people onboard. (Chris Hassett)
Related articles