ICYMI: Cool Cats Town Hall Meeting Summary

Jason Bales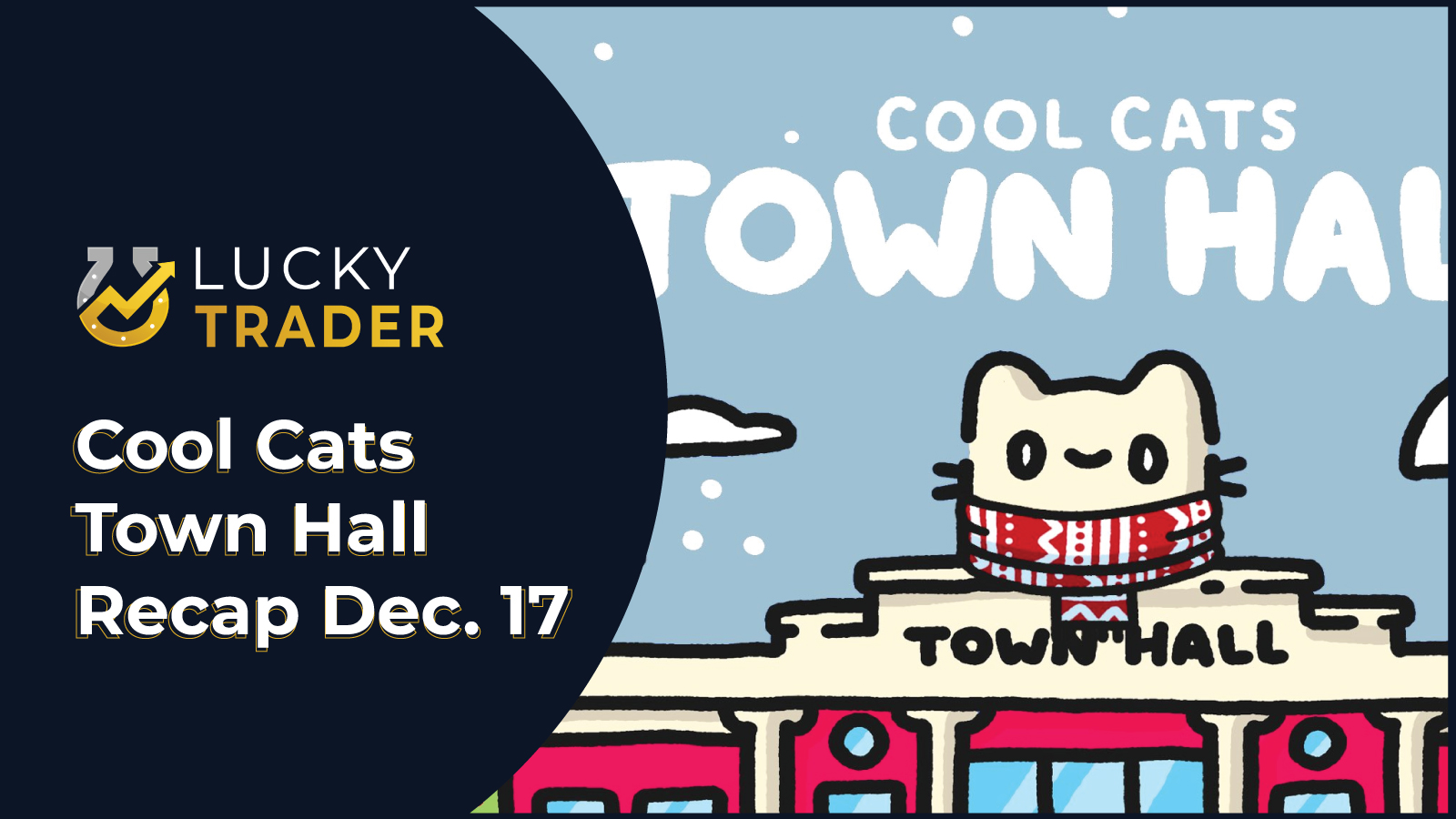 The Cool Cats NFT hosts an informative Town Hall meeting every Friday at 5 p.m. EST. Below is a summary of the event that took place on December 17, 2021.
Key Takeaways: last Town Hall of the year, the team is taking a break for the holidays, timeline on Cool Pets and $MILK
For last week's Cool Cats Town Hall summary, click here.
During the Week
Before we dive into this week's Cool Cats Town Hall meeting, let's talk briefly about what happened during the week.
Winter Wonderland continued with daily prize raffles.
Clon hosted a Twitch stream to talk about how he envisions Blue Cat spending the holidays.
The drawing and cookie contests ended and winners are expected to be announced soon.
The first ever Cool Cats NFT game night happened on Discord.

This should happen more often in the future, according to the team.

Cool Cats NFT donated 9.525 ETH t o Sostento to help healthcare workers.
There's extra holiday cheer for our frontline health workers thanks to @coolcatsnft 🎅

The winning bid by @dirtybuns on the charity auction for their smiling nurse cat #NFT raised 9.5 ETH 😮

It's safe to say...we like the cats! 😺@cloncast @evanluza @lilfrecklez @xtremetom pic.twitter.com/mPTfTgKraJ

— Sostento (@Sostento) December 15, 2021
Introduction Announcements
Another 1/1 Cool Cats collaboration NFT will be sold at auction with 70 percent going to the team, who will donate it to charity.
Cool Cats NFT is still hiring at https://www.coolcatsnft.com/careers
There will be no Cool Cats Town Halls on Christmas Eve or New Year's Eve, making this the last Cool Cats Town Hall of the year.
we can't wait for you all to see what @AnimoNFT has created! 💙 https://t.co/0iQNL15wqn

— Cool Cats 🆒🐱 (@coolcatsnft) December 13, 2021
Beta Testing
The next stage is coming with testing on items and pet interactions.
The team is off for holiday from Dec. 23 to Jan. 3. to avoid burnout.
Finally, a Timeline
Cool Pets and $MILK will be launching in (roughly) the middle of January.
Open beta is coming in early January.

This will run for a week or two.
Q&A Session
In this section, Q indicates a question and A indicates an answer (speaker in parenthesis).
This is a summary, not verbatim.
Q: Have there been any developments with the onboarding of influencers? (AntJxck)

A: Our main onboarding offering will be Paper Cats, which is also going to be delayed because of the Christmas break. It will be a highly-affordable, almost infinite supply. And it will help people to learn about NFTs in a fun way. (Adam)

Q: Is there a specific type of onboarding process for high-profile influencers? (AntJxck)

A: Paper Cats will be available to anyone. But something that is really important is that high-profile influencers are going to be equally as confused as we all were when we started. So getting them to a point where they understand the NFT space is important. (Adam, xtremetom)

Q: Can we expect a stealth launch? Or is there a plan to market the upcoming game? (Friendly Degen)

A: A new team member has been added to our Discord. That person is spearheading all of our YouTube and TikTok content. So we've got a person who is going to be doing that whole side of things. We will market on YouTube and TikTok. Whether or not we will engage or collaborate with other YouTubers is still open. We are currently focused on closed beta. (Lynqoid)

Q: Would you ever consider doing a Cool Cats theme park? (kumo)

A: That would be amazing! (Lynqoid)

Q: Can we have plushies in the Cool Cats' store? (Merry Muffinz)


A: We want to do that. (xtremetom) I'd love to do a Build-A-Bear style where you can add your attributes to it. (clon)

Q: Will there be legendary Cool Pets?

A: The best answer for that is that we're not telling. (xtremetom)

Q: What are your thoughts on what we're doing here from a high level? What is our slogan? (Squigg)

A: We're trying to build out an entire ecosystem, from merch to a series to brand partnerships to games. We look at Pokemon a lot because we like what their brand has become over time. We want to emulate that offering of being everywhere and accessible to everyone. (ELU)

Q: Where do you get merchandise? (Type T)
Q: Will the Cool Cats NFT giveaway happen this year? (dubiousdoe)


A: Yes, that will happen at the end of this month. (xtremetom)

Q: How do we differentiate ourselves from other NFT projects? (pepperhand)


A: We are a very tech and utility heavy project. We are also very accessible. Once we release our tech and utility heavy bits of the project, that will create long-term utility for Cool Cats. It's easier to go down the short-term utility road. But I think that is our big advantage. (Lynqoid) The ecosystem we built allows you to write your own contract and bolt it into the Cool Cats game. So, if you decided that there should be a particular set of unique quests, that could happen. New games that use $GOLD or $MILK can happen. The community can write mods for our game. We're thinking beyond coming out with a token and a game that will last a month. (xtremetom)

Q: Will we be allowed to buy Art Basel merch by the end of the year? (ahs)
Related articles