ICYMI: Cool Cats Town Hall Meeting Summary

Jason Bales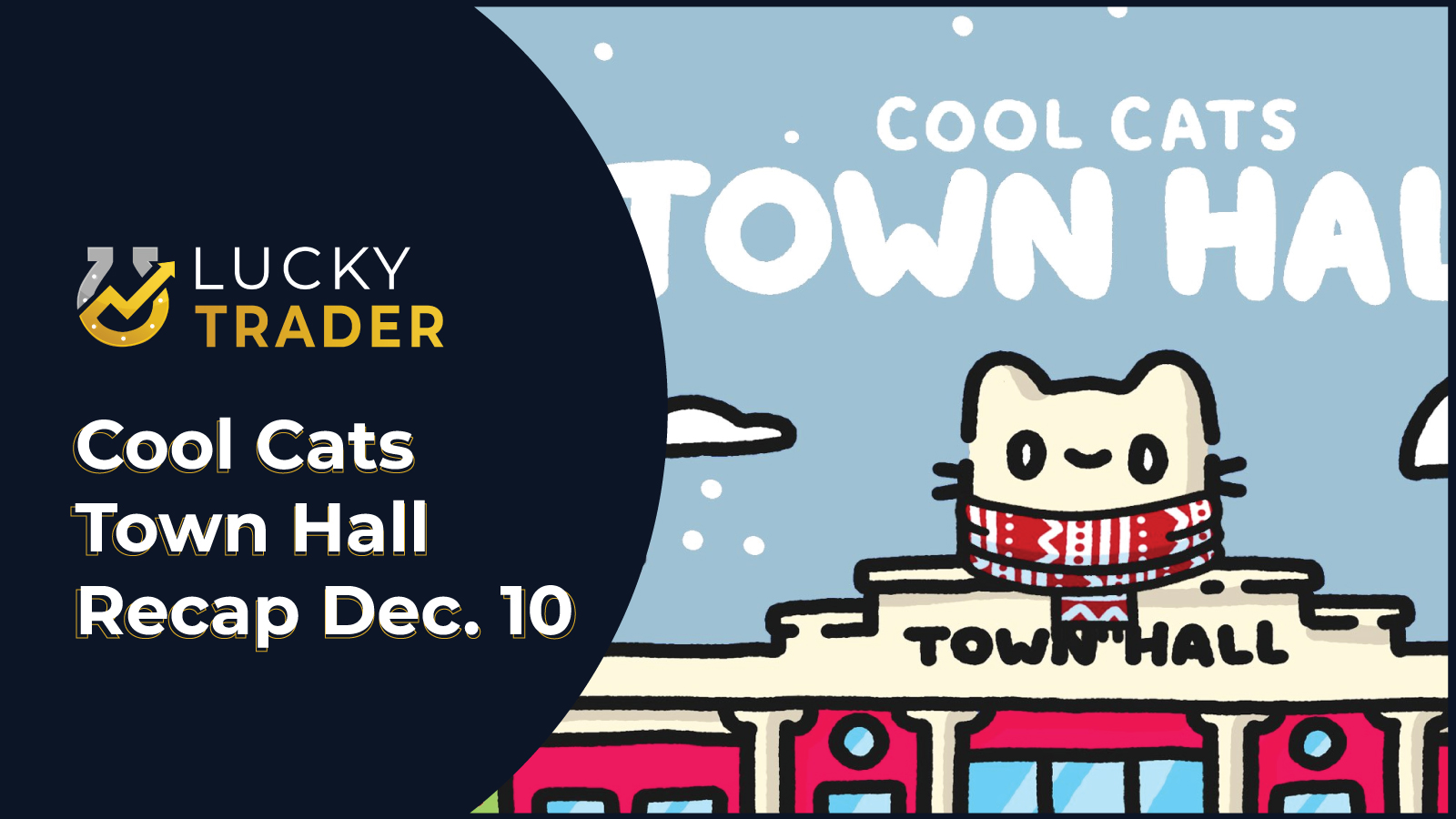 During the Week
Before we dive into this week's Cool Cats Town Hall meeting, let's talk briefly about what happened during the week.
Cool Cats NFT announced its holiday drawing competition.

Create an art piece that showcases how Blue Cat is spending their Winter Wonderland.
Tweet your entry with #CoolCatSzn by Dec. 13.
Both holders and non-holders are welcome.
50 whitelist spots and merchandise tickets are available as rewards.

Learn more about Cool Cats NFT with the project's newest 10 facts you didn't know about Cool Cats on YouTube.
Stage two of beta testing has started.
Cool Cats NFT announced its cookie decorating and coloring event for holders only.

50 whitelist spots and merchandise tickets are available as rewards.

$40,000 was raised for healthcare workers through the Sostento charity event.
Winter Wonderland continues.
Introduction Announcements
Allowlist spots for Cool Pets, Lynqoid drawings, and merchandise tickets have been raffled away to the Winter Wonderland puzzle contest winners.

There are still 10 days left to enter.

There will be a drawing contest soon, as the team is looking to hire more illustrators.
CoinBase interviewed Clon at Art Basel in Miami.
Exclusive Miami merchandise is still available, and a giveaway is likely.
New team member, Mowley, is doing animations for Cool Cats NFT.

He's responsible for the above-posted YouTube video.
Cool Cats NFT is ramping up YouTube and TikTok posts.
Game Night in Discord
This Sunday, at 5 p.m. EST, there will be a game night in the Cool Cats NFT Discord.
Prizes include:

Merchandise
Allowlist spots for Cool Pets
Rugs

Games include:

Scribble
Among Us
Other multiplayer games
Stage Two Beta Testing
$GOLD claiming is active.
Tom (xtremetom) is focusing on development and is not at the Town Hall.
Stage Three is coming soon, but there are bugs to fix.
For everyone not in the @coolcatsnft beta, we have just launched Stage 2 of testing.

Thanks to all the people helping us test ❤️ pic.twitter.com/a7PEfighlQ

— Lynqoid (@Lynqoid) December 9, 2021
Q&A Session
In this section, Q indicates a question and A indicates an answer (speaker in parenthesis).
This is a summary, not verbatim.
Q: Can I assign a Cool Cat to my friend? (OOSKWEED)

A: It doesn't quite work like that. You won't be able to borrow out to a specific friend. (Lynqoid)

Q: Will we get to know who is using our Cool Cat or Cool Pet? (OOSKWEED)

A: We're working through some mechanics. There is a specific reason that it might not work like that. If you put your Cool Pet out for rent, it might be in there for a week and no one uses it. But to make that experience a positive experience, you're going to gain something regardless. The questing system is something we're working through right now. (Lynqoid)

Q: Are the quests completed mainly with Cool Cats or Cool Pets or a combination of both? (Friendly Degen)

A: The idea is that you take your Cool Pets on a quest. But if you own a Cool Cat, you'll be able to put your Cool Pet into an automated section of the questing system. Your Cool Cat will passively generate gold, so it doesn't need to do questing. (Lynqoid)

Q: Do you have aspirations for creating a turn-based strategy game? (Friendly Degen)

A: The only thing we've released so far is the battle tab button on the beta. (Lynqoid)

Q: Will all the individual items in the game be NFTs? (Pixlit)

A: Yes, they are separate NFTs on Polygon. (Lynqoid)

Q: Are there any updates in terms of timelines for the mint of Cool Pets? (gatos)

A: Specific timelines are still a little bit tricky. Our main goal is to deliver a smooth product over just trying to get it out there. An exact timeline is difficult. But next week is going to be crunch time for us. Potentially at the end of next week, we might be in a better position to talk about exact timelines. (Lynqoid)

Q: Will I earn passive $GOLD from my Cool Pet? (ant)

A: There may be room in the tokenomics for a tiny bit of passive $GOLD, but we're still working through everything. (Lynqoid)
Full Recap
Related articles