ICYMI: Cool Cats Town Hall Meeting Summary (November 5, 2021)

Jason Bales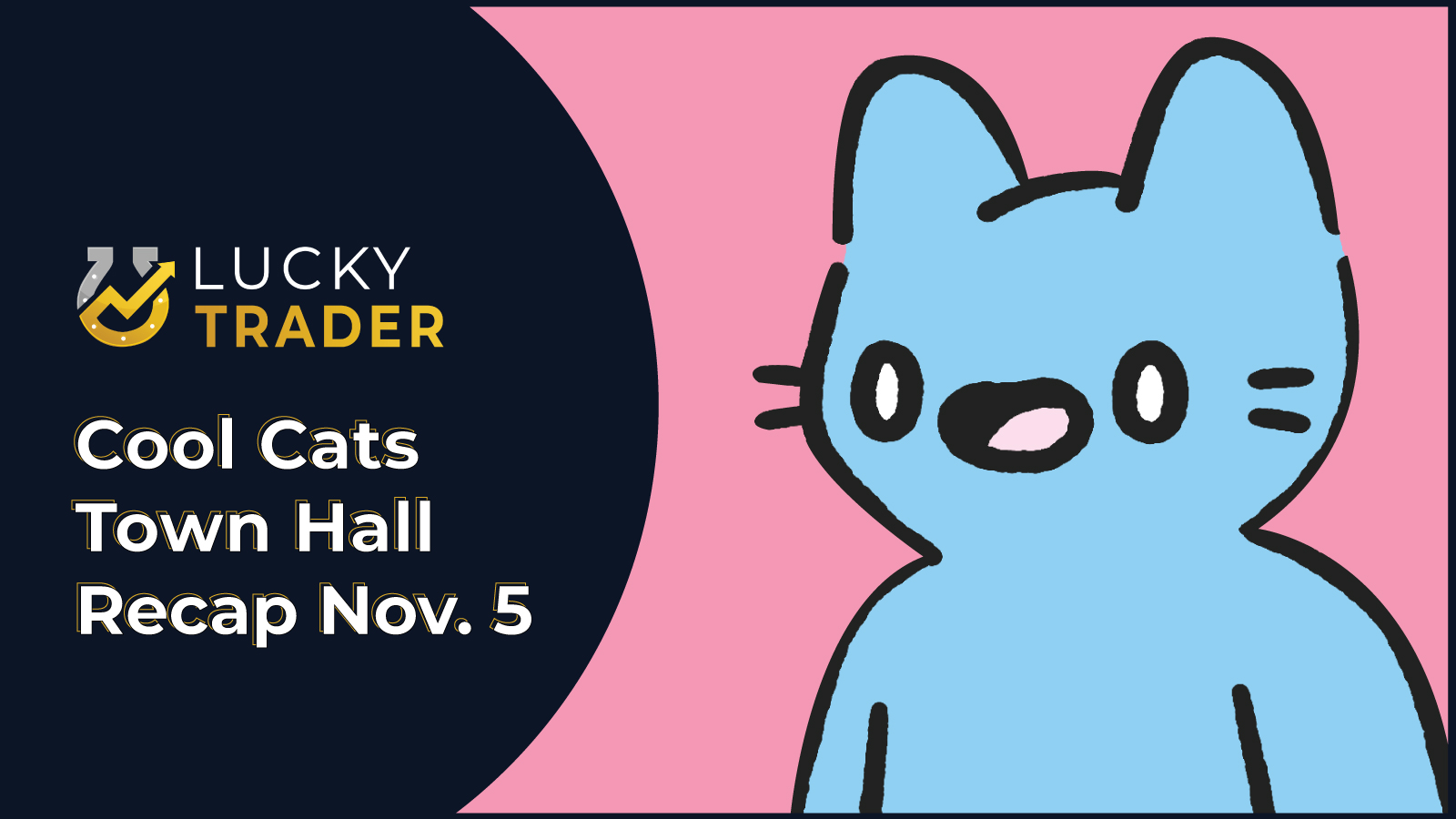 The Cool Cats NFT hosts an informative Town Hall meeting every Friday at 5 p.m. EST. Below is a summary of the event that took place on November 5, 2021.
Key Takeaways: Achievements are coming for Halloween contests this next week; Cool Cats giveaways are still coming; Lynqoid provided lore for the Cool Cats community; Cool Pets will have an entire quest system for earning rewards (gas free); this is still very early stages.
For next week's Cool Cats Town Hall summary, click here.
Introduction
This was the first week of the Cool Cats NFT NYC billboard.

104 Cool Cats will be featured in week two.
Featured cats will be posted following the Town Hall (link coming).

There was an unofficial Cool Cats meet up/party in New York (hosted by KevinF).

800 people RSVP'd, including 700 Cool Cats holders.
There was a drawing circle with clon and others.
A recap video is coming soon.

Cool Cats NFT is 43 holders away from 5,000 unique holders (more statistics available by clicking the "Explore" button above).
Start spreading the mews... we want you to be a part of it - NEW YORK! To be considered, change your PFP to your Cool Cat and reply to THIS tweet with your Cool Cat's OpenSea link and the hashtag #CoolCatsNYC! We will be selecting community cats to take over Times Square! 🐱🏙🍎 pic.twitter.com/hiJLmE9SC9

— Cool Cats 🆒🐱 (@coolcatsnft) October 29, 2021
Pumpkin Spooktacular and Costume Party
The Pumpkin Spooktacular event ended on October 31.
The Costume Party ends tonight.
These events were for both holders and non-holders.
Achievement NFTs will go out this upcoming week.
Our entry for @coolcatsnft Pumpkin #Spooktacular: Ghosta Lisa and Spooky Cool Gweivara. pic.twitter.com/2brTFaAOPm

— Josh Ong (@beijingdou) October 30, 2021
Cool Cats Giveaways
The 13 Cool Cats that are expected to be given away soon are still delayed.
There is 1 more Cool Cats drop for Halloween that will be hitting wallets this next week.
Story Time With Lynqoid
Note: Please ignore any misspellings in this section.
There is a land called Cooltopia.
Blue Cat is an adventurer.
Tepnu sets sail on his ship in search of a treasure.

He gets lost and falls asleep in his cabin.
He hears a bubbling purr from below the ship, and he goes out to check what it is.
He sees furry tentacles pop out from the ocean and knows that he must face his enemy, the legendary Kritten, a half-cat, half-octopus creature.
The Kritten crashes his boat.
He is dragged through the waves and thrown onto an island with a mountain in the center of it.
He finds a beautiful waterfall, which leads to thousands of curious egg-shaped objects.
He takes an egg and walks back toward his ship.

This is the story of the Cataclysm.

There are four major disasters that will bring Cool Cats holders their eggs.

The story will be posted on Twitter soon by the narrative designer (stay tuned).
Cool Cats Pets
Every Cool Cats holder will be able to claim a Cool Pet (this is the official name now).
Pets will be available for non-holders, too, as part of a drop.

This creates a natural demand for $MILK, which Cool Cats NFTs can claim over time forever.

There will be an entire quest system, where Cool Pets complete tasks to earn $GOLD, which can be converted into $MILK.

Cool Cats holders will be able to hire out their pets to people who don't own a Cool Cat or Cool Pet.
These Cool Pets can then be used to complete a quest and Cool Cat holders will earn a percentage of the overall quest reward.

How do the quests work?

You can do a limited number of quests per day if you have a Cool Pet or rented a Cool Pet.
The quest rewards are completely free. The team covers the costs on the backend.
A certain amount of gold can be won on each quest (dice roll, might earn 50%, 75%, etc.).
Cool Pets traits can add a bonus to quest rewards.
You can pay $GOLD to re-roll available quests if you don't like the ones that you've populated.
Might be relevant now... pic.twitter.com/qeyQBH9toB

— Lynqoid (@Lynqoid) November 5, 2021
Relevant Later (or maybe now, depends when your looking at it). pic.twitter.com/39i8E6b9Ym

— Lynqoid (@Lynqoid) October 29, 2021
Future Plans
We are still in stage one or stage two of the currently project.
There are potentially 20 stages left.
Q&A Session
In this section, Q indicates a question and A indicates an answer (speaker in parenthesis).
Q: Do we have three more Lynqoid story times? (Mepuru)

A: At least three more, yes. (Lynqoid)

Q: What will the Cool Pets tasks or jobs be? Why would you rent one out? (fungibles)

A: If you have a primary Cool Pet that you want to work on, but you don't have time to use the other few that you hold, you can put them into a daycare center, and your Cool Pets will earn you $GOLD as other people use your Cool Pets to earn rewards. (xtremetom)

Q: With the pets, is that going to work like a staking mechanism would? (HunchoCat)

A: Yes, we don't ever grant ownership of your Cool Cats NFT to another person for obvious reasons. But it is essentially staking your Cool Pet into the daycare center. (xtremetom)

Q: For people that want to run quests that don't own any assets, do they need to create a MetaMask wallet to gain their winnings or assets? (SethBA)

A: Yes, they will need a MetaMask wallet. (xtremetom)

Q: What can we expect from what the quests will actually be? (TheSmarmyBum.eth)

A: Effectively, the quests are... at this stage, it is not going to be a quest that you actually actively go and do like World of Warcraft, for example. (Lynqoid)

Q: Is there utility for $GOLD other than selling that $GOLD? (TheSmarmyBum.eth)

A: You can use the $GOLD to do small things in the system for stage one, but the big things will be coming shortly. I'm trying to keep it vague. We have some really cool plans. (Lynqoid)

Q: Once the Cool Pets are fully evolved, what will be the use of buying items then? (Jishous)

A: We can't talk about that yet, sorry. (xtremetom)

Q: Any thoughts on putting Cool Cats NFTs on NFL players cleats? (korkibutchek)

A: We probably shouldn't talk about this in front of over 200 people. (xtremetom)
Related articles