ICYMI: Cool Cats Town Hall Meeting Summary (November 12, 2021)

Jason Bales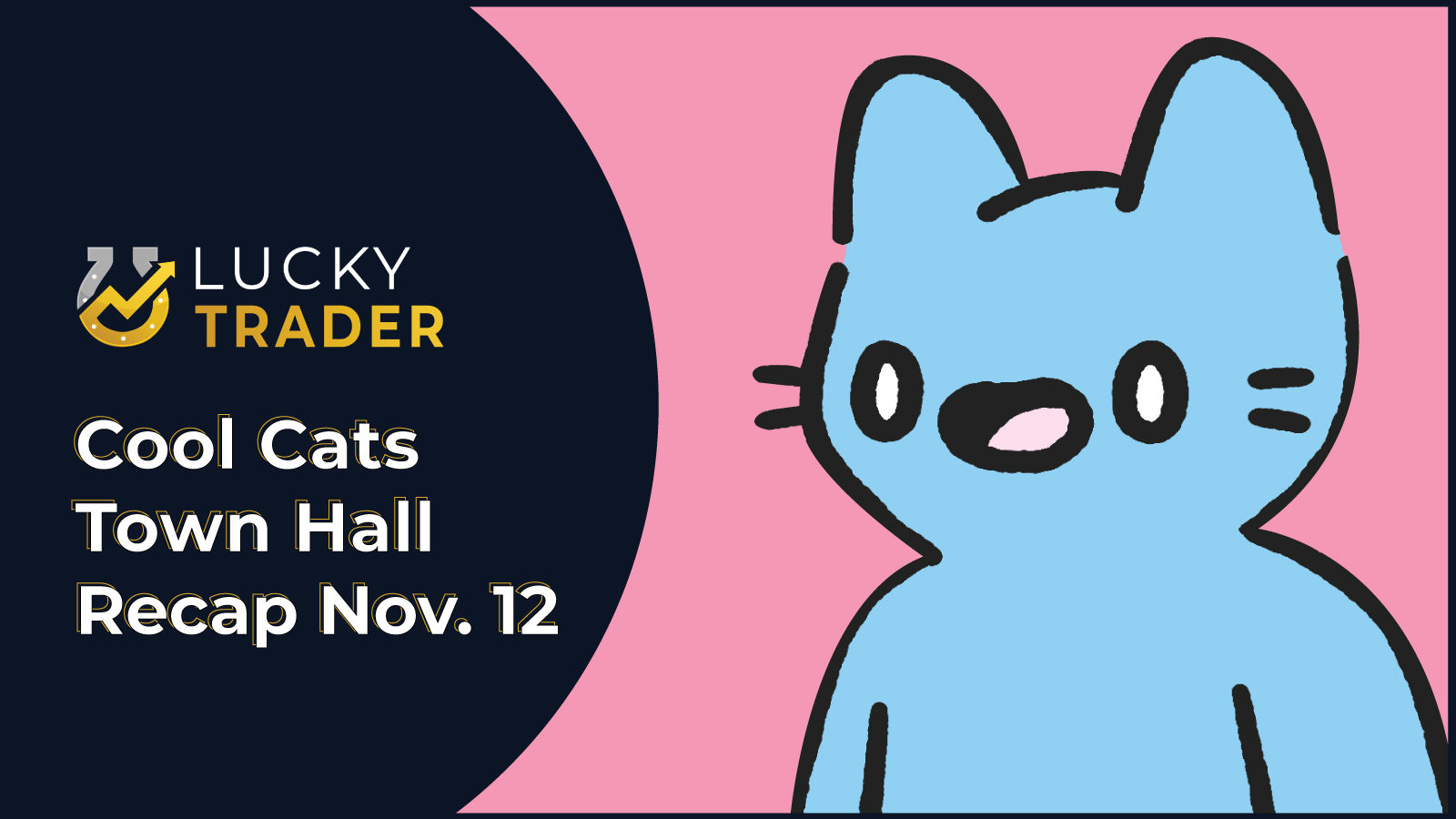 The Cool Cats NFT hosts an informative Town Hall meeting every Friday at 5 p.m. EST. Below is a summary of the event that took place on November 12, 2021.
Key Takeaways: previews of Cool Pets, the last Halloween-theme airdropped hit wallets, Cool Cats NFT will be on CoinBase NFT, Cool Cats reached 5,000 unique holders, a new member was introduced to the team, achievements for contests are coming soon, more Cool Cats are coming to NYC, more sneak peaks of website design are available, beta testing for the new platform is coming soon, very long Q&A
For last week's Cool Cats Town Hall summary, click here.
For next week's Cool Cats Town Hall summary, click here.
Last Week
Before we dive into this week's Cool Cats Town Hall meeting, let's talk briefly about what happening during the week.
First, the team dropped previews of all of the Cool Pets types - fire, water, air, and grass.
The final Halloween-theme Cool Cats airdrop hit holders' wallets on November 10th. Holders received either a spider web, candy, or bat inspired Cool Cats Events NFT. If you qualify and don't see the airdrop in your wallet, check the hidden folder on OpenSea, as these airdrops are coming from Polygon.

And finally, right before the start of the Cool Cats Town Hall meeting, CoinBase NFT announced that they've teamed up with Cool Cats (and several other projects) for drops on their platform.
😺MEOW😺@coolcatsnft's in the house. How pawesome is that? pic.twitter.com/TUTzAxGeqp

— Coinbase NFT (@Coinbase_NFT) November 12, 2021
Introduction Announcements
Cool Cats NFT officially hit 5,000 unique holders.
Pete is a new member of the team.
Events achievement airdrops are coming soon (next week likely) for Cool Cats costume and pumpkin carving contests.
Another round of 108 Cool Cats is coming to the New York City billboard in Times Square.
Gary Vee mentioned Cool Cats during an interview with Facebook's (Meta's) Mark Zuckerberg.
More Sneak Peaks
Lynqoid shared screenshots of the upcoming Cool Cats website.

The Cool Tablet (left) - update of UI and tablet screens.
The Market Place (right) - bag and inventory.
Cool Cats: Cool Pets

The Cool Tablet - Update of UI / Tablet Screens.
The Market Place & Bag/Inventory#NFTs #NFTCommunity pic.twitter.com/twKk5xL2KY

— Lynqoid (@Lynqoid) November 12, 2021
Beta Testing Is Coming Soon
On November 26, Cool Cats will open up for beta testing the new platform.

Beta testers will not have an advantage because all images will be whited out and names will be changed.
Beta testing will take place for one to two weeks.
They are looking for 100 or 200 people for beta testing, from general users to coders.
Beta testers will apply through a Google form.
Q&A Session
In this section, Q indicates a question and A indicates an answer (speaker in parenthesis).
This is a summary, not verbatim.
Q: Will there be a fan art event in the near future? (Moglets)

A: There will be a lot of things happening to keep everyone happy. (xtremetom)

Q: Have you heard of Pixel Cats, and what is your take on that since it is a derivative? (coldplunge)

A: It's an interesting topic. I'll be honest, it annoyed a lot of Cool Cats holders. We just think it's a derivative, and we aren't going to engage because it annoyed so many Cool Cats holders. (xtremetom)

Q: Is there going to be a tiered rarity for the Cool Pets? (placid)

A: Rarity is not tiered like the Cool Cats for the Cool Pets. You have total control over whether your egg hatches as a fire, water, air, or grass Cool Pet. So, we have no control over how many of each Cool Pets type there will be. But every single Cool Pet that comes out is unique like Cool Cats. (xtremetom)

Q: Are there any updates on the 13 cat giveaway for October? (atownbrown)

A: Yes, unfortunately it is taking longer than we ever thought it would. We need to cover everyones' backs and make sure we are compliant. We haven't forgotten, it is still happening. (xtremetom)

Q: Is there any data that the community wants, like charts or dashboards? (Erik Ashdown)

A: Potentially the most and least traded cats. (Lynqoid) You could build the Cool Pets database. (horndog)

Q: We need a MEOW DAO to give grants to community members like Erik to build these platforms out. (horndog)

A: We are already ahead of you on that one. (xtremetom)

Q: Do you have an idea of how many pets will be available, or how quickly Cool Pets will need to be claimed by the community? (GoBigBlue)

A: There is a population of Cool Pets available for public mint. Cool Cats holders can claim whenever they want; there is no time limit. We are thinking of doing a whitelist for public mint through a series of competitions, events, and collaborations. We want to avoid a gas war in any way possible. (xtremetom)

Q: I was wondering if supply on $MILK is going to be infinite? Or is there a capped supply eventually? (Brian)

A: I'm not going to answer that. I'm still balancing everything out. (xtremetom)

Q: How are the attributes on the Cool Pets going to be random? (The Righteous Link)

A: The entire interaction system with items is handled on Polygon. We can handle all those interactions on Polygon. Our systems do all the data handling off of the Ethereum network. Once the "Final Form" of your Cool Pets is reached, we will update the meta data through Ethereum. (xtremetom)

Q: Will $MILK be a perpetual passive yield? (LostProphet)

A: Cool Cats will be able to claim $MILK. I'm not going to talk to an end point to that. In terms of questing, $GOLD can be earned through questing. I can't leak any more alpha, I'm sorry.

Q: Art Basel is coming up. Are you guys doing anything for that event? (Eugene M. Dorfman)

A: That is still up in the air for us. It is a bit of a question mark at the moment. (clon)

Q: If you have multiple Cool Cats, will you be able to claim multiple Cool Pets? (Vinnie Hager)

A: Yes, and all in a single transaction. (xtremetom)

Q: Now that spooky season is over, will there be Christmas merchandise up on the website? (Matt Lugo)

A: Yes, there will be some fun stuff. (xtremetom)

Q: Will there be rewards for those who minted Cool Cats or held Cool Cats for a long time? (Zoopa)

A: I haven't had the time to code anything out, but the idea is to give an achievement award to "diamond paws." (xtremetom)

Q: Do you have a couple of takeaways from NFT NYC for my article for Rolling Stone? (Larry Dvoskin)

A: What I loved most is that it truly didn't matter what project you were into, if you saw someone on the street with NFT merchandise, you spoke to them. It was all love. I don't think I had one bad interaction with anyone. It was love all the way around, and we're all excited about what is about to come. (clon)

Q: How do you see this as helping creators? (Larry Dvoskin)

A: Andrew Wang is the perfect person to ask. (Simon, clon)

Q: When it comes to rarity, will the rarity of cats matter when generating $MILK? (Blackflash)

A: Yes, it does depend on your Cool Cats tier. But it will not be a major difference. Higher tier Cool Cats, however, will have benefits across multiple systems. (xtremetom)

Q: Will a Cool Cats meet up happen in the UK? (Blackflash)

A: It is likely just going to end up being a pub crawl. (xtremetom)

Q: Can you talk more about being able to rent out your Cool Cats for the game? (delphinoto)

A: As a Cool Cats holder, you can put your Cool Pets into a daycare center and rent them out to new people who come into the system. The new people can run a quest with your Cool Pet and a percentage of the $GOLD earned from that quest will go to the new person and the person who rented out their Cool Pets. (xtremetom)
Related articles