Around the Blockchain (2/27/22): MagicDAO

Jacob Cohen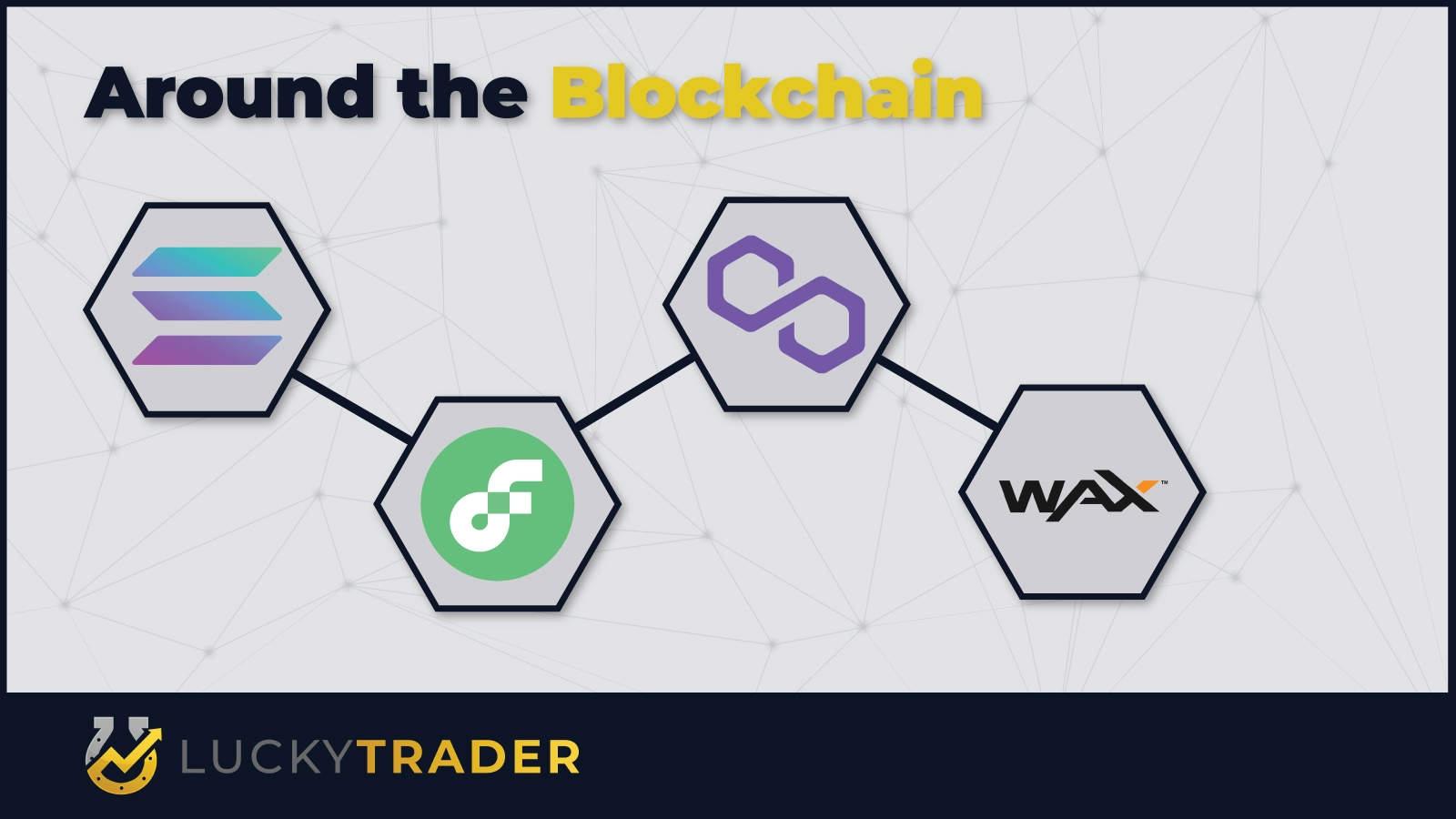 This week's article will shake things up a bit. As much as the crypto world moves, so must we move with it. An attempt to be even more inclusive of other chains means a little less news within each individual chain. However, the same rules apply: nothing on the Ethereum (or an Ethereum-based layer-2) blockchain. Anything else is fair game.
The Fungibles
$LUNA, the Terra blockchain-based token, has just been rocketing over the past month, these past 7 days in particular. Currently sitting at $76.33, as of this writing, this marks an almost 60% increase over the past week, as per coinmarketcap.com. This far and away lead the fungibles for the week. Other winners included $SOL ($89.04), which ticked upwards 2.55%, and $FTM ($1.73), up a mere 0.55% on the week.
On the losing end of the week was $AVAX ($79.57), although barely, as the Avalanche chain's token came in a mere 0.14% from last week at this time. Other down trends included $FLOW ($5.67, 1.96%), $WAXP ($0.29, 2.16%, and $XTZ ($3.38, 1.4%).
This Week in Solana
The MagicDAO has arrived! No idea what the MagicDAO is? It's understandable. MagicEden, the ever-growing in popularity marketplace and NFT minting site, decided to launch its own DAO. The DAO aims to "create a stronger Solana NFT ecosystem" according to the company's Twitter. In so doing, those who connected their email and Discord accounts to their Solana wallets that had previously used the site, the company airdropped one of three different NFTs, depending on the wallet's age and activity in connection with the MagicEden marketplace. These "Magic Tickets," whether bought or received, and whether it is the Normie, Degen, or OG version, will grant access to the MagicDAO. The DAO, expected to be funded with an initial 1,000 $SOL from MagicEden, has a long and complicated explanation of roles, which can be read here. Tickets can be purchased, starting at 0.2 $SOL for a Normie Ticket, on the MagicEden Marketplace.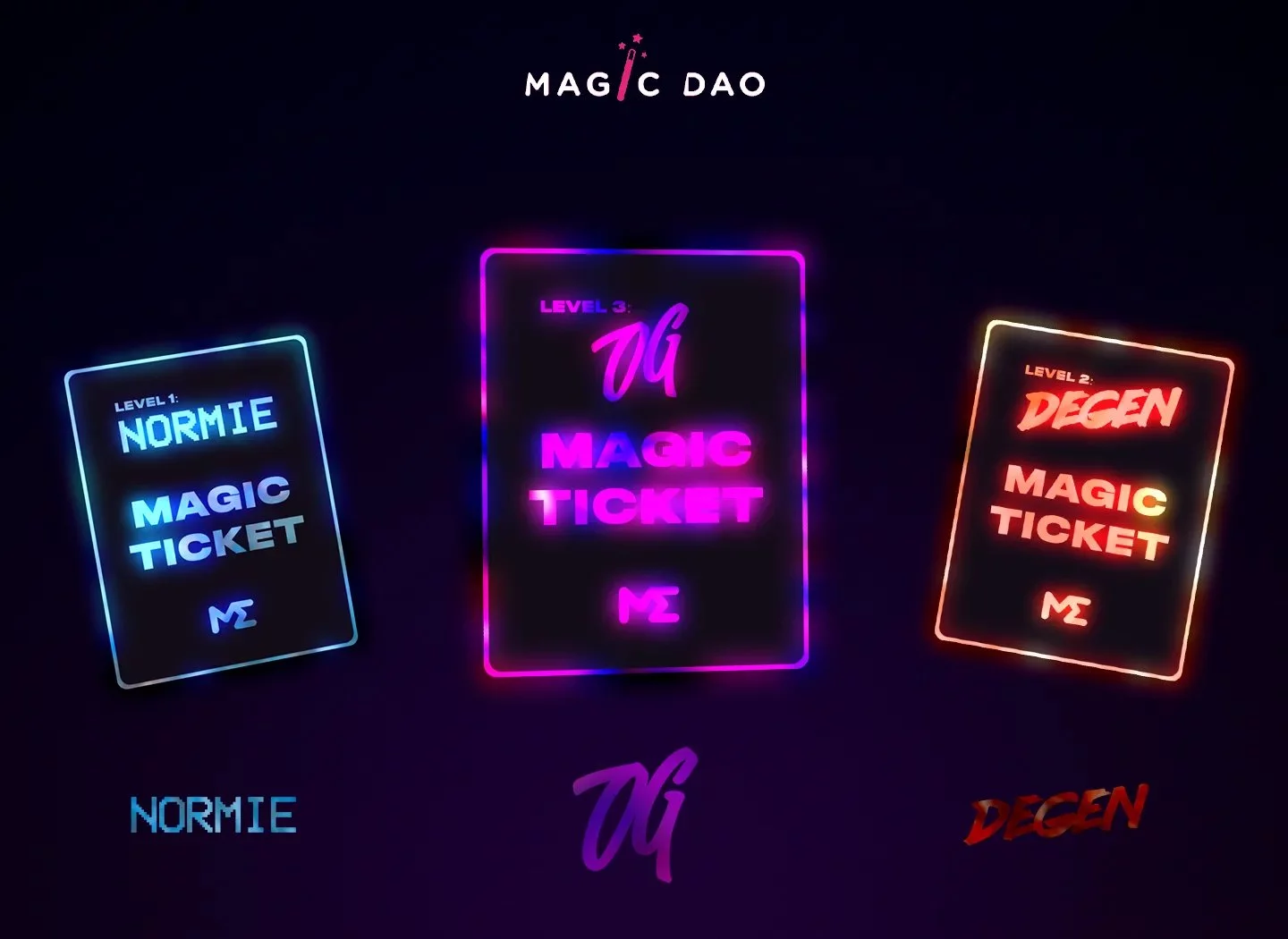 Joystik, Inc. began as an upcoming app looking to connect gamers. The idea behind the app was to create a way for like-minded gamers to find each other and build communities, guilds, etc. for both enjoying games together and for games that require teamwork. However, the company pivoted from attempting a seed raise in order to procure capital to selling NFTs. Joystik, Inc. was transparent that the funds raised from the Joystik Founders Club NFT sale would be funneled into building and deploying the app. The company also listed out several benefits and ways to earn for early holders. However, whether it was the price, the app idea, a lack of marketing, or the NFTs and utilities themselves, the general public did not go for it. After the whitelist closed, an hour later the 7-day public minting window opened at 1.8 $SOL. As of this writing, only 1,405 out of a total supply of 3,333 have been minted on MagicEden's Launchpad. It remains to be seen what the future holds for the NFTs and the app itself, as it does not appear that it will sell out.
This Week in FLOW
Whereas much of the news from Dapper Labs was pretty standard with NFL All Day dropping Week 13 packs and NBA Top Shot dropping more All-Star packs, there was some pretty significant news from both sites. From the All Day platform, the much-anticipated marketplace opened and after a bit of bumpiness seems to be running smoothly at this point, and TopShot began offering some very new and unique NFTs to the platform, the All-Star VIP Pass series.
The very first 1-of-1 NFT offered by Top Shot, the All-Star VIP Pass is a collection of 30 unique NFTs, one for every current NBA team, all being put to auction by the site. As the name suggests, the main perk included in owning the VIP Pass is annual access to the NBA's All-Star game and all related festivities for 5 years, beginning in 2023. That is far from all, though. Also included is a meet and greet including shootaround with past NBA greats, behind the scenes access and tours in the host arena, a VIP merch bag to include an exclusive All-Star jersey, and for the initial winner a total of 51 combined Top Shot packs. However, the Passes won't come cheap. The bidding for each starts at $10,000 and lasts for a week. The first NFT, the L.A. Lakers Pass, ends in roughly 3 days and currently sits at a high bid of $12,322 as of this writing. Find the entire collection and see when each team's NFT auction will launch here.
This Week in WAX
Interested in WAX but felt like an entire 101 course was needed to get up to speed and get started? Well then today is your lucky day because that is exactly what just launched! The first in seemingly an upcoming series of new courses on the subject, "Introduction to WAX" is an actual online course being offered by "They Anyobervation Academy". The course is broken down into 10 parts and, just like the rest of Anyobservation Academy is promised to be, is completely free. The course promises to be helpful not just to first time users but to WAX veterans as well, as it goes over resource efficiency and the WAX governance system, something very few users truly understand. The course, and site, is being offered by crypto and blockchain enthusiast Anders Bjork (@anyobservation).
Other Blockchain News
In the world of Terra a lot has been happening. As mentioned above, the $LUNA token has been making a massive push upward, but in the NFT space this unique blockchain has been making waves as well. Read all about the news in Lucky Trader's Jason Bales' recent news recap.
One problem for P2E has been the constant complaint that the games are not good enough. Essentially, most games are being played primarily for the earnings with the gameplay being secondary. The hope is that soon a company will come along and launch a true P&E game, one where the gameplay is fun and entices users to play regardless of earnings, but allows for that as well. Heroes Chained, on the Avalanche network, aims to be the first to successfully pull off this admittedly difficult feat. The game, set to release its first NFTs soon with alpha gameplay to follow shortly thereafter, is being developed by an impressive team with a lot of graphics and game development experience. The ICO for the $HEC token just launched this past week, and the price currently sits at $2.40. Follow the company on social media or join one of several messaging platforms being utilized to get all the news
.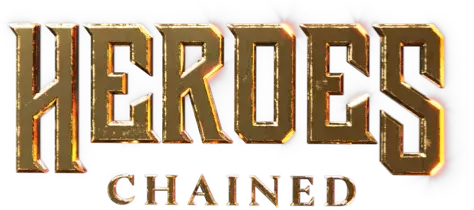 Related articles