Daily NFT News | Projects, Drops, and Reveals to Watch Today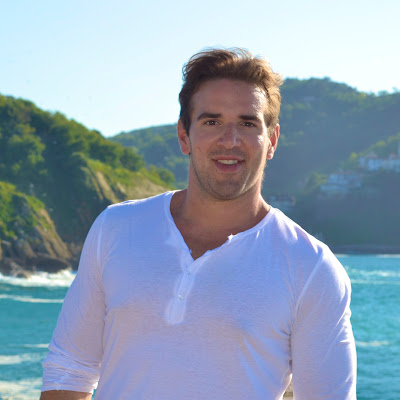 Tyler Warner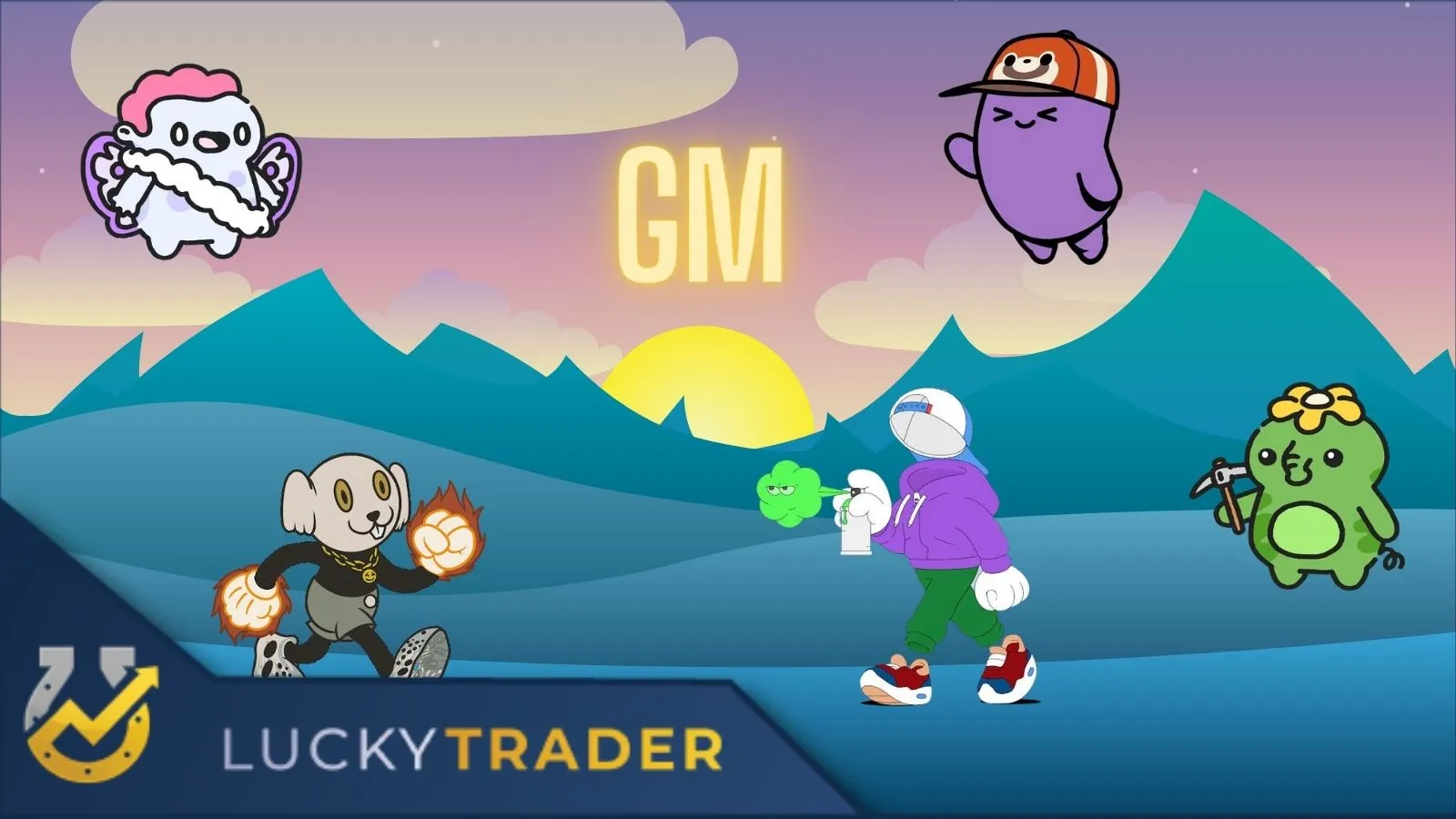 Lucky Trader covers the latest NFT news for Friday, June 24. Top stories include Snoop Dogg and Eminem at ApeFest, Shopify making a big splash at NFT NYC with multiple IRL collabs, and Art Blocks resurgence.
Top NFT Projects to Watch Today, June 24
The markets may have been a little slow on Thursday (a new yearly volume low for OpenSea trading) but it was a fast news day, led by major headlines from all of the top NFT PFP projects, Shopify making a huge imprint on the NFT space with their collabs with Doodles and Invisible Friends, and the latest marketplace announcement from Binance in partnership with Ronaldo.
Celeb action was heavy Thursday as well, with Snoop Dogg and Eminem headlining ApeFest and rocking their apes, Madonna present at the World of Women event, and even Keanu Reeves (a previous NFT naysayer) joining FLUF World as an adviser.
It is a quiet weekend for new drops, with just one small project on the radar for today, but a stealth drop from yesterday in Moonrunners had some early success and could set the stage for more stealth drops this weekend.
Let's get into it.
Top NFT Mints and Reveals Today, June 24
It is shaping up to be an incredibly quiet weekend for NFTs, with just one drop on the calendar for today and none on Saturday. There are not any reveals on the radar either, so the focus will mostly be on existing projects and ones with some current momentum. But a quiet weekend for drops could be a boon for the sole launcher in Glitchies.
Glitchies
This PFP collection of 2,222 cartoon avatars launches today at an approachable price point of 0.05 ETH. Without a website, there are not many sources of info for this project other than its Twitter feed, but based on posts it does seem that the project will have a mental health focus. They offer up "daily mental health talks and activities" along with the ability to open up "emotional support tickets" to talk to their team psychologist.
With limited info, it's difficult to paint the bull picture for this set, other than its low supply and relatively low mint price. The downside is - we know very little about the project, its vision, or plans, and it doesn't seem much time or effort has gone into its building. But with absolutely nothing else launching this weekend, this one could heat up enough to mint out if the presale goes well.
The Glitchies presale launched this am at midnight and continues until 11:59 a.m. ET, with the public sale going live just after, at noon ET.
💜🎉 Mint Details 🎉💜

June 24th - Supply: 2,222 - .05 ETH

Giving away 5x Glitch List spots here

RT + 💜 for WL pic.twitter.com/HqLk89i2mN

— Glitchies | Mint June 24th (@GlitchiesNFT) June 17, 2022
NFT News and Announcements
Thursday was a full day of news, headlined by the major NFT projects and platforms and also coinciding with NFT NYC wrapping up and attendees starting to look forward.
Starting with ApeFest, Yuga met (or exceeded expectations) with its final concert lineup from Thursday's main event, as Lil Wayne, Snoop Dogg, and Eminem all performed. Snoop's BAYC, nicknamed Dr. Bombay, even made an appearance on stage. This is some amazing branding and speaks well for BAYC overall, given Snoop and Eminem's reach.
Snoop's ape, Dr. Bombay, just came out on stage… #ApeFest2022 @BoredApeYC @SnoopDogg pic.twitter.com/VZCswgdm4r

— NFTofer 🍌 🔮 (@tofersny) June 24, 2022
The Doodles team had another big day Thursday, as they launched an IRL minting experience as well as revealed the Dooplicator traits. The first Doodles Genesis Boxes were minted with this credit-car-enabled minting machine (made in collaboration with Shopify), producing wearables that can be used for Doodles 2 (more info to come soon). Then late in the evening, the Dooplicators revealed, leading all NFT volume on the 24-hour window though falling 23% to 2.89 ETH. The set revealed three tiers: Very Common, Common, and Rare. Since reveal, Rare NFTs have now sold for 11-12 ETH with the top sale at 12.69 ETH.
🎛🤖🌈

The first Genesis Boxes have been reserved!

We teamed up with @Shopify to bring you a credit card enabled minting machine IRL.

Thank you everyone who attended Doodles NFT NYC. pic.twitter.com/7ECSWP1WvB

— doodles (@doodles) June 24, 2022
Another large fundraise for an NFT company just closed, as Cryptoys announced a $23mm Series A round led by a16z, Dapper Labs, Mattel, Animoca Brands, and others. Cryptoys is an NFT toy and collectible company focused on building a blockchain-based toy company with the goal of introducing the mechanics of the blockchain/NFTs to a younger audience. Their genesis NFT drop will include 30,000 first edition Heroes NFTs and will provide certain utility to holders.
In other celebrity/star athlete partnership news, Binance has partnered with soccer star Cristiano Ronaldo to release a series of NFTs exclusively on the Binance platform. The partnership is a multi-year deal, with the first collection expected later this year. From Ronaldo, " "Together, we'll give you the opportunity to own an iconic piece of sports history. I'm excited to take this journey with all of you. Let's change the NFT game with Binance."
The LooksRare marketplace released a very interesting new feature Thursday called "Conditional Listing." The mechanic allows users to list two NFTs for sale but ensure only one ever gets sold, per the user's preference. The platform essentially cancels the second listing upon the fulfillment of the first sell order, and from their FAQs, the functionality works even with Genie/Gem sweeps. The caveat of course is that the functionality only works if the NFTs are solely listed on LooksRare, as they cannot control the buy or sell action on others marketplaces.
Here is a quick round up of the rest of the main headlines from Thursday:
RTFKT is partnering with Ledger for their upcoming Genesis Pass mint, granting access to exclusive collabs, limited edition hardware wallets, and more, including airdrops of art from Ledger's Artist in Residence program
The NHL named the Sweet NFT marketplace its official partner for NFTs in a multi-year deal and includes plans for an upcoming NHL NFT launch slated for the start of the 2022-2023 season
VeeFriends merch drop with skateboard apparel company Primitive Skateboarding launches today at 3 p.m. ET
Capsule House announced a new project drop from Robotaki taking place on June 27th, and Capsule House holders will have early access
Lazy Lions launched their new comic "A Glitch in Time" available for minting for anyone who holds a full Lazy Lions set (Lion+Cub+Bungalow)
Art Blocks announced the final project of their Curated Series 7 collections, as Melissa Wiederrecht launches "Sudfah" on June 29th at 1 p.m. ET
Invisible Friends partnered with Shopify to create the "first" token-gated vending machine, unlocking access to an RFID bracelet granting access to limited edition merch
FLUF World introduced Burrows as premium virtual real estate coming to its Futureverse; the burrows will include 10,500 parcels across four types: The Den, The Suite, The High Rolla, and the Snoop Dogg

Okay Bears teamed up with IKONICK (a digital wall art company) and Shopify to release the "first" Solana token-gated e-commerce experience, Okay Bears Shop.
Airdrop News
The Karafuru projected announced that its holders should check their wallets Thursday AM, as they launched a "Furu Surprise" NFT. The NFT itself looks like a mystery box, with a set of glowing eyes peeking out, and held a 0.17 ETH floor in early trading post-drop.
The MOAR collection from Joan Cornella announces that its serum drop will take place on June 30th and will include two types of serums, red and green. Red will be airdropped to all holders, with green dropped to "Diamond Hands" (those who have held since mint) and to those who complete the projects "SEIBWOZ" game. The MOAR set bounced to 0.99 ETH floor on the news, up from 0.82 ETH.
NFT Art Market Action, June 24
Digital art is hot! Some might even go as far as saying that art is back in style.
It's a bit early to formally come to that conclusion, but we saw some very promising signs this week of a potential bull market for digital art.
Let's start with generative art and Art Blocks. It has been an incredibly green week, with some notable collections making big increases in floor price. The gains have been mostly concentrated in the mid-tier sets, as the top end was mostly unchanged other than Fidenza jumping a modest 11%. But the mid-tiers have been hot, with a range of increases from 62% to 196% in the past 7 days.
| | | | |
| --- | --- | --- | --- |
| Collection Name | Current Floor | 7 Day Floor | % Change |
| Fidenza | 83 ETH | 74.9 ETH (+11%) | +11% |
| Ringers | 44.9 ETH | 44.9 ETH | 0% |
| Elevated Deconstructions | 35 ETH | 35 ETH | 0% |
| Archetype | 28 ETH | 15.88 | +76% |
| Unigrids | 16 ETH | 9.85 ETH | +62% |
| Subscapes | 13.2 ETH | 7.8 ETH | +69% |
| Chromie Squiggles | 10.25 ETH | 5.75 ETH | +78% |
| Meridian | 9.5 ETH | 5.5 ETH | +73% |
| Singularity | 7.7 ETH | 2.6 ETH | +196% |
| Anticyclone | 5.45 ETH | 2.2 ETH | +148% |
| Ecumenopolis | 4 ETH | 1.5 ETH | +167% |
This increase is likely a testament to two factors: 1) cheap ETH and collectors using USD pricing in their purchases, and 2) how thin the floors of some of the most popular collections are, which is correlated with the diamond-handed collector base.
For point 1, Squiggles were down around $6,000 this past week with ETH ~$1,000 - down from the high last summer around $80,000 (20 ETH). The same story can be painted for nearly every collection, which is all down big percentages from last year's August high but even more in USD terms after the ETH crash. And the market finally figured that out.
As to point 2, there just is not that much open supply in these sets, so any buy pressure at all can make a big impact on the floor. And sharp traders can easily spot the sets with the thinnest floors and concentrate liquidity there. Now the question becomes - do these floors fill in after a big jump, or does buy pressure continue at these higher ETH levels?
While this has certainly been a bullish week, the trend needs more time to be confirmed as a true reversal vs just a temporary pump. Art Blocks did combine for ~7500 ETH on the week in overall volume, compared to just ~4300 ETH the week before, a solid increase. Once those weekly numbers mirror or surpass the top PFP sets, we will know for certain that Art Blocks is back.
Not to be left out, 1/1 art also saw some notable action this week. Rising artist Grant Yun had another solid primary sale, with his piece "Midtown" (great timing with NFT NYC) selling to mateo77 for 27 ETH. The sale is right in line with Grant's latest primary action which has been in the 30-32 ETH range.
💎 Midtown 💎

✨ Artwork by @GrantYun2
💰 Sold to mateo77 for 27.0 ETH ($29,888.19)https://t.co/rBYuG0Uh34$RARE #CryptoArt #NFT pic.twitter.com/an38VC6Glt

— SuperRare Bot 💎 (@SuperRareBot) June 23, 2022
Another rising star artist in Jack Kaido made headlines this week as well with his sale of "Passage" for 15.534 ETH, marking a new ATH for the abstract digital artist (in ETH terms). This sale happened just hours after Jack's piece "Echo" was sold to Tom Kysar for 13.599 ETH.
Jack had made headlines earlier in the week as famed collector Artifaction released the artists for his Noble Cards Season 1 drops, and Jack made the list - alongside top names such as XCopy, Guido Disable, and Caravaggio.
💎 Passage 💎

✨ Artwork by @thisjackkaido
💰 Sold to anonymous for 15.534 ETH ($16,829.38)https://t.co/PieNHPLtQL$RARE #CryptoArt #NFT pic.twitter.com/toBJ2RyX22

— SuperRare Bot 💎 (@SuperRareBot) June 22, 2022
It will be interesting to monitor the 1/1 digital art market here in the near term with ETH relatively cheap, to see if any grails change hands at a discount or if any new artists can gain some traction in ETH terms.
NFT Market Action Data, June 24
Overall NFT liquidity remains low in USD terms, as Thursday notched just $14.8mm in trading volume on OpenSea as a new low for the year. This puts the month of June at just $590mm in volume with 80% of the way through the month, on track to be the lowest volume month since last July and less than 50% of the volume of any of the past 10 months.
This was evidenced further by the daily mover leaderboard, which did not include a single project trading four figures of ETH. The top movers on the day were an interesting mix of big-name PFP projects and some newcomers, which we have not seen in a few days.
Top movers included:
Dooplicator with 878 ETH volume, 2.89 ETH floor (-23%)
Gossamer Seed with 600 ETH volume, 0.6 ETH floor (+59%)
MAYC with 550 ETH volume, 17.5 ETH floor (-0.6%)
Moonrunners with 489 ETH volume, 0.15 ETH floor
Moonbirds with 460 ETH volume, 20.4 ETH floor (+8.8%)
Thus two of the top five projects were newcomers, with Gossamer Seed making a big leap up 60% on the day, and Moonrunners launching a free stealth mint and running all the way to 0.15 ETH in the latest "story-driven" NFT project (though seems derived from Moonbirds).
A few other notable winners on the day included the Art Blocks project Memories of Qilin which jumped 48% to 8.75 ETH floor, mcgoblins up 16% to 0.92 ETH and Moonbirds Oddities up 6% to 3.5 ETH.
Notable losers on the day included Shitbeast (-40%), LonelyPop (-23%), the Good (-10.5%) and Azuki (-7.5%). with Azuki being a strange loss as party feedback was incredibly positive but no concrete announcements or airdrops seem to have been a let down to a few traders.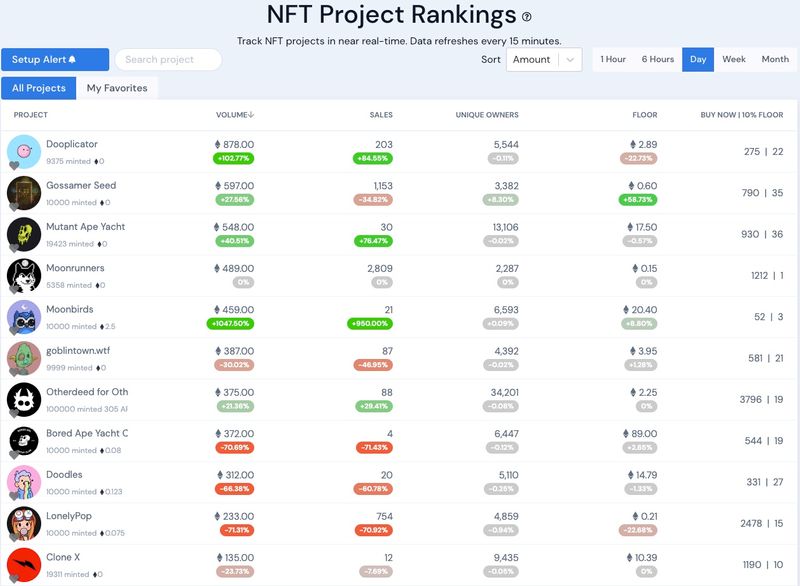 NFT Market Analysis
The crypto markets were up a bit Thursday, with BTC at $21.2k (+2%) and ETH up more at $1190 (+7%), in line with some upwards movement in the equity markets. We continue to be in a bit of a news lull ahead of the next CPI print, and sentiment seems to be that we will trend up in a brief relief rally ahead of that news.
Though NFT volume is down and at yearly lows, floors are holding up very well which is a positive sign. There has been some pullback already from a lack of major NFT NYC news (see Azuki), as there were some apparent swing trading attempts looking to hit and run on some big news that did not take place. But BAYC, Moonbirds, and Doodles remain up nicely on the week and are now the top 3 PFPs to watch in this sector going into the summer.
Early reactions to NFT NYC seem very positive, with attendees re-energized with the space and some really cool tech and partnerships on display (thank you Shopify). Now we wait to see if this translates to market action in the coming days/weeks.
But price action aside, this was a major week of news with huge brands entering the metaverse (Lowes), major companies and protocols announcing plans for NFT marketplaces (eBay, Binance, Uniswap), and celebs continuing their endorsements in varying fashions (Ronaldo, Madonna, Snoop). It's hard not to be bullish for the long-term aspects of web3 and NFTs with all of this news. The key will be to remain active and present and continue to seek out the opportunities and spots for the best entries for risk/reward as these new entrants begin to launch their own projects.
With a quiet weekend of drops, enjoy summer, spend time with friends and family, recover from NFT NYC (for those who attended), and stay up to date with all the latest NFT news with our Lucky Trader newsfeed.
Happy Friday and have a great weekend everyone!
Related articles